| | |
| --- | --- |
| Orig. Price: | $990.00 |
| Sale Price: | $890.00 |
| Availability: | in stock, buy today! |
| Prod. Code: | WHITEGOLDMARIAN2017 |
This beautiful Marian themed Eucharistic Processional Canopy
is available
FOR IMMEDIATE PURCHASE as at 14th May, 2017
Half price shipping offer: $US45 for express international
SOLD on 16th May! - no longer available, sorry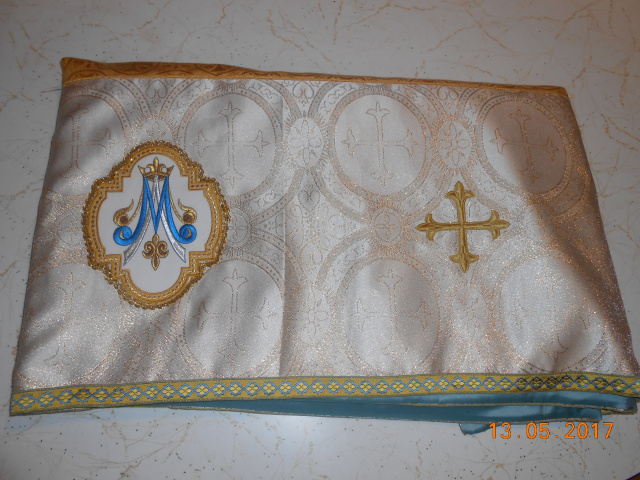 The canopy measures 62" long by 56" wide.
Crafted from high quality church fabrics, trims and with pure 100% silk lining on the four side panels. The four sides are lined in a beautiful Marian shade blue, pure silk.
The ROOF is made from a deep gold shade church fabric, which has a repeating Cross in the pattern. The roof fabric is of a suitable weight, to avoid the canopy almost becoming a parachute on a windy day. The inside of the roof has rod pockets, if you wish to use a frame (frame not supplied).
SIDE PANELS ARE 12.5" deep.
The SIDE PANELS are crafted from a lovely white/gold church fabric as shown. All four side panels are interlined with a woven cotton interlining to give stability.
The front and back panels feature the following emblems, and the direction that the canopy will face during a procession can be chosen according to the Feast being honoured:
1. An embroidered Marian emblem with 4" Crosses on either side.
2. A Lamb of God embroidery, with 4" Crosses on either side.
* Note: The extreme left of the canopy shown above, is not in any way puckering or pulling inwards as the blue silk suggests. This effect in the image is from the way I hand drew around the canopy with the mouse to cut away the background of the photo. Be assured that the sides are very professionally sewn. I will be adding a photo as soon as possible showing the full canopy laid flat.
The sides are trimmed in a blue/gold, high quality British rayon 3/4" trimming.
===========
Strong loops and tie tapes applied to the four corners, with which to hoist the canopy onto the poles (poles not supplied), and to tie down for extra security.
===========
** FREE UPGRADE: This listing includes the addition of a quality silver grey fringing on the four panels.