| | |
| --- | --- |
| Price: | $1,199.00 |
| Availability: | made to order |
| Prod. Code: | CANOPY2012_A |
NO LONGER AVAILABLE, SORRY
FOR CORPUS CHRISTI 2012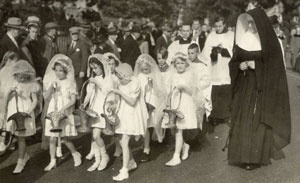 * Half price Shipping! * Half price Shipping! * Half price Shipping!
Ready for immediately shipment via International Courier Express.
This beautiful Canopy measures 54" x 54" - this is the dimension of the roof.
Made from an attractive ivory/white jacquard fabric.
The four side panels are approximately 19" deep, which includes the gold fringing.
Side panels are lined in gold satin lining.

The FRONT panel of the Canopy is adorned with a unique 9" bullion embroidered emblem of the Two Hearts - the Sacred and Immaculate Hearts of Jesus and Mary.
This canopy also features a beautiful emblem of the Holy Spirit, applied to the roof. It is created from a silk embroidery of the Holy spirit over a cloth of gold background with geometric trimming as shown. The entire emblem measures approximately 11 inches square.
Each side panel is shaped into four scallops trimmed in a 3/4" gold/gold imported British trimming.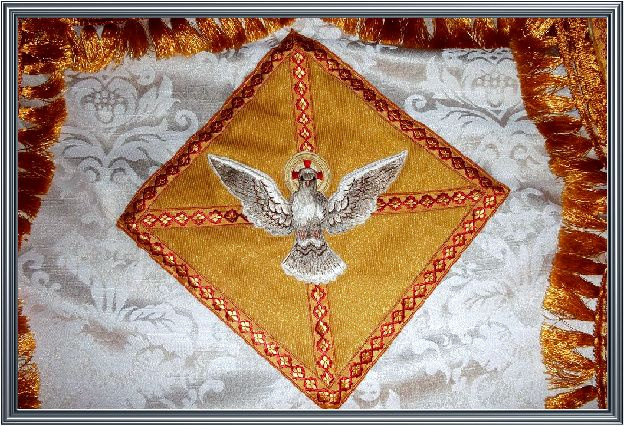 The inside seams of the roof (where the roof joins the panels) has been finished in quality trimming.
There are rod pockets on the four seams inside the roof, where you can add a frame to stabilise the canopy.
The canopy has loops on the four corners so it can be hooked up onto the poles * POLES NOT INCLUDED!*
There are also tie tapes on the corners to help further secure the canopy.
If you have any questions, please email me!