| | |
| --- | --- |
| Price: | $1,190.00 |
| Availability: | in stock |
| Prod. Code: | Lourdes2022 |
Here is a Roman set of vestments in honour of Our Lady of Lourdes.
CHASUBLE
The fabric is a quality white/white jacquard. The Chasuble is interlined with woven fabric, and then lined in a very beautiful, Duck Egg Blue shade, pure silk lining. This is the last of this silk I have in stock. My silk supplier sold her store a couple of years ago, and the new owners do not stock the same range of colours that I bought and used for years. Unless I personally 'hand dye' natural shade silk for you in this shade, this silk will not be available again. The other option, though, is to use starched cotton lining in the same or very similar shade of blue.
This Chasuble is not as long at the back as I usually sew them. This is due to my inadvertently use an older pattern for an Italian style Chasuble, which is only 39" at the back from top of shoulder. The Chasuble measures 26.5" across the shoulders at back, and 39.5" in back length.
The Cross on the back of the Chasuble and the front panel are formed from British Pugin 3" banding in gold/white as shown. The Chasuble is edged with 3/4" quality rayon British Quatrafoil trimming.
The emblem on the centre back of the Chasuble is that of Our Lady of Lourdes as shown. It measures approximately 9" in height. I will put some light washes of paint over the top and also a sealer, before this set is shipped.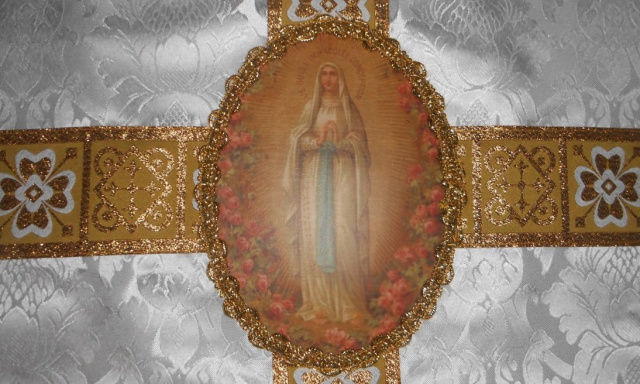 STOLE: The Stole is a generous length and is made from pure 100% white silk fabric. Trimmed with bullion embroidered Crosses as shown and fringed.
MANIPLE, BURSE AND CHALICE VEIL
These will complete the vestment set, be lined in the same blue silk fabric and feature bullion Crosses to match the Stole.
Thank you for visiting this page!