| | |
| --- | --- |
| Price: | $545.00 |
| Availability: | ** SOLD ** |
| Prod. Code: | MARIAN2022 |
Here is a lovely, newly sewn, Marian themed Catholic processional Canopy.
SOLD 29/4/2022 - please contact me for options.
READY TO SHIP WITHIN 24 HOURS
The Canopy measures 53" x 53" square on the roof. It is sewn from white/white Jacquard for the roof, and a beautiful gold/white Church fabric with IHS and Lamb of God used for the four sides.
The generous side panels fall on all four sides. Each side panel is 15" deep, which includes quality metalic fringing as shown in the photos.
Each side has 1.5" wide blue/gold, byzantine style geometry pattern trimming running along the base. The front panel has a Cross formed from the trimming in the centre.
Each side is fully lined in a quality lining which is a stunning medieval Marian blue shade. The inside of the roof, where the roof joins the sides, is fully trimmed with 3/4" British trimming. Four strong loops are located in the corners, with additional tie tapes to secure the canopy.
The Canopy roof is made from a lovely white/white jacquard fabric.
This is an affordable Canopy perfect for Eucharistic and Marian Processions. It can be easily maneuvered.
* Image for illustration purpose only
INTERNATIONAL EXPRESS SHIPPING: approximately $US65
Thank you for visiting this page and God bless you!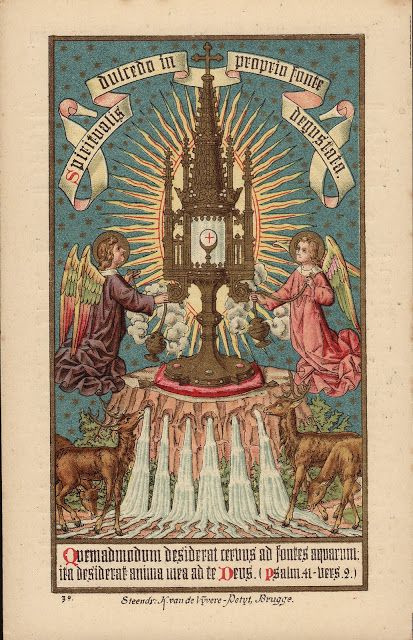 * Holy Card for illustration purpose only