REQUIEM AETERNAM - DONA EI DOMINE
It was with great sadness that I learnt of the death of our Queen, Elizabeth II. I remember Her Royal Highness visiting Cairns in 1970, and all of us school children from Saint Monica's Cathedral School going out to wave flags with the hope of catching sight of her. I also have a letter from Buckingham Palace, sent to me in 1997, when I wrote to the Queen, commenting on the race horse she had sent to Australia for the Melbourne Cup.
According to my dna Maternal results, my mother was approximately 30% European Royalty, (mainly German/Bavarian Queens), with maternal descent from Agnes of Bavaria, 1276, House of Wittelsbach. Charles is thus my distant relative, and this revelation also connects me to almost every royal house in Europe - Romanovs, Danish, French royalty, etc. What a family!
'Et si mane me quaesieris, non subsistam!' - JOB 7
'..And in the morning if you should seek for me, I will not SUBSIST..' Job 7...such a true verse, applicable to all. Rich or poor, young or old, one day we will be required to render an account of our lives before Almight God. Lord have mercy upon us at that dreadful hour!
Saint Paul admonishes us to pray for monarchs. May her soul rest in peace.
By Queensland State Archives - http://www.archivessearch.qld.gov.au/Image/DigitalImageDetails.aspx?ImageId=9759, CC BY 3.0 au, https://commons.wikimedia.org/w/index.php?curid=75977871
27TH JULY, 2022 - $US790: Priced for quick sale - 1 ONLY, quality Gothic Cope. Beautifully embroidered and fully lined, with outstanding workmanship. Excess stock, must be sold. Half price SHIPPING just $US30.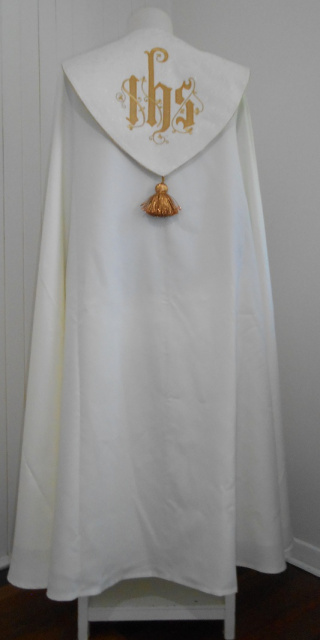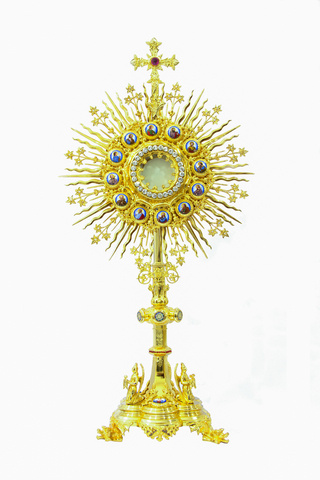 SOLD! Marian Vestment Set Special for June! Priced to Sell Quickly: $US890, plus shipping $US65 for International Express.
I have available for immediate purchase and shipment within 36 hours, a beautiful Roman Vestment in honour of Our Lady of Lourdes, in white.
This set uses available fabrics and trims I have inhouse, and the pure silk blue lining is the last available. Unless I hand dye silk in this shade for future sets, it is not replicable. However, there would be the option of starched cotton lining in the same shade.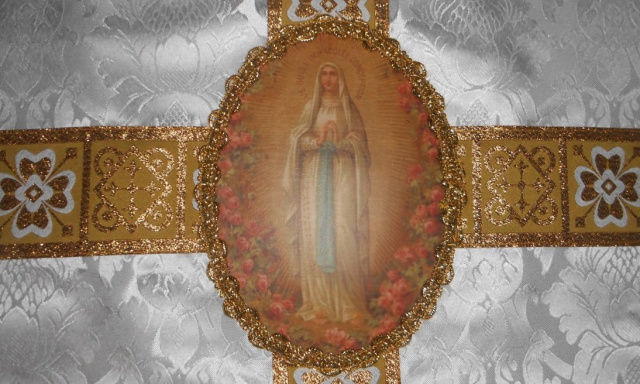 A glance back at work completed in June, 2016: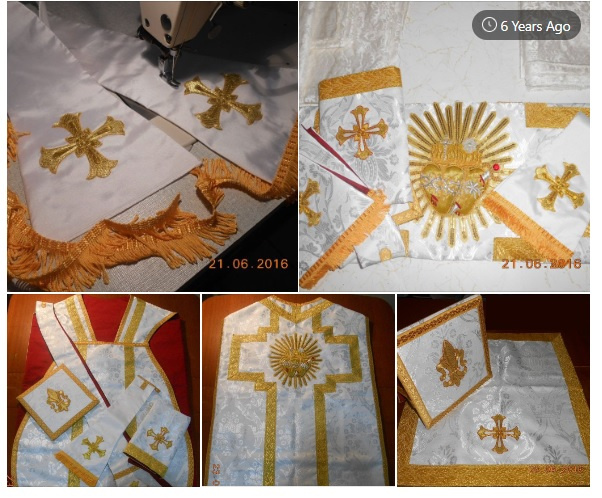 31st May, 2022 - NEW! $US399
1 only simple Processional Canopy in stock available for immediate shipping.
Light weight and perfect also for pilgrimages or similar.
Express International Shipping: $US55
ANNOUNCEMENT! 2023 is approaching fast!
Next year, 2023, will be the 25th Anniversary of this business venture.
I started in 1998 with $54 worth of linen and an inspiration to just 'sew Mass Linens'. I have decided that 2023 will be a 'Celtic Vestment Year' focussed on creating uniquely meaningful Celtic themed vestments and related Sacristy as far as possible.
Ascension Thursday, May 26th, 2022: CLOTH OF GOLD Roman Vestment Set with Celtic Theme
BELOW: This beautiful vestment was a restoration project from 2013. I can sew a replica, using the same cloth of Gold and machine embroidered version of the Celtic Cross. Please contact me to discuss such a project! The design can be adapted to a simpler version (i.e. less extensive embroidery) to suit a range of budgets.
NEW FOR 2022 ASCENSION TIDE: $US1995 - Roman Vestment design with Crucifixion Scene embroideries. Available in gold/gold or Requiem Black/Silver.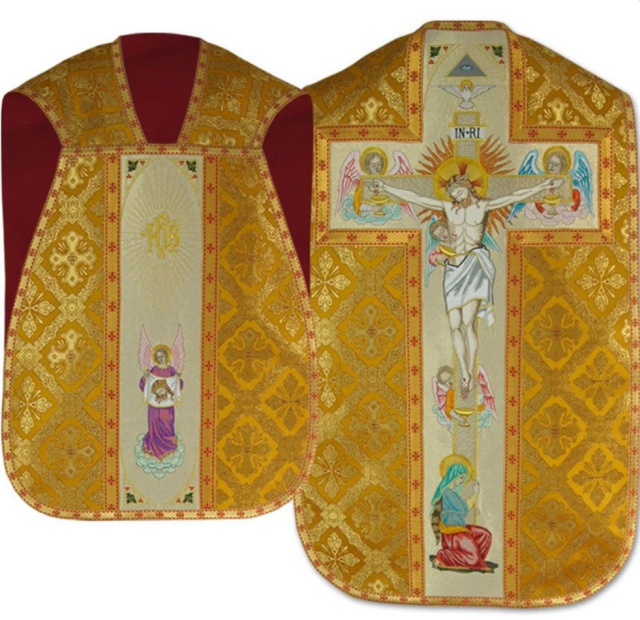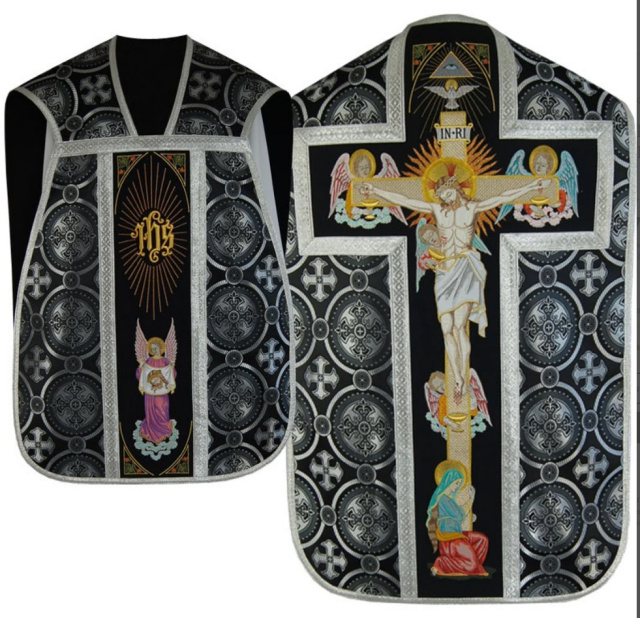 3rd MAY 2022 - Roman Italian style vestment set in rich cream British fabric with blue/gold geometric pattern galloon. Please email for current quote.
BELOW - Our Lady of Guadalupe Roman Vestment using Ely and Evesham British fabrics. Contact me for the current price. Thank you!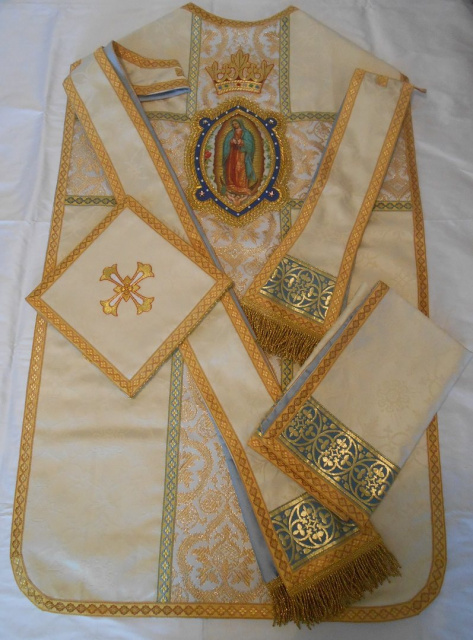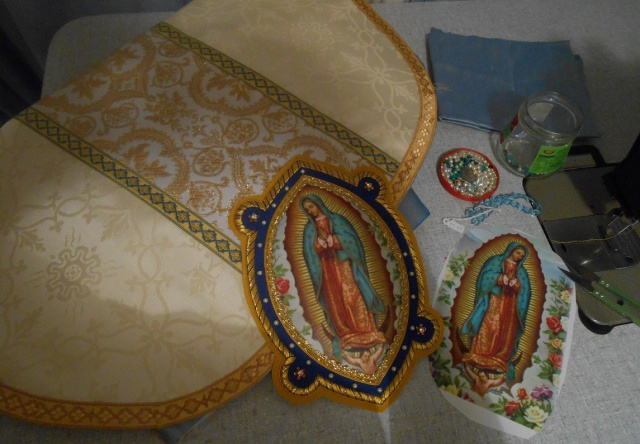 AVAILABLE FOR IMMEDIATE PURCHASE $US790: Semi-Gothic set of vestments in white with unique emblem of SAINT JOSEPH