SEASON OF ADVENT, 2023
Second Sunday of Advent - 'Populus Sion' Sunday
From the Prophet Isaias.
Ch. xi - And there shall come forth a branch out of the rod of Jesse, and a flower shall rise up out of his root. And the Spirit of the Lord shall rest upon him, the Spirit of wisdom and of understanding, the Spirit of counsel and of fortitude, the Spirit of knowledge and of godliness: and he shall be filled with the Spirit of the fear of the Lord. He shall not judge according to the sight of the eyes, nor reprove according to the hearing of the ears: but he shall judge the poor with justice, and shall reprove with equity for the meek of the earth.
WISHING EVERYONE A BLESSED AND GRACE-FILLED SEASON OF ADVENT, 2023!
Fatima Anniversary, 13th Oct 2023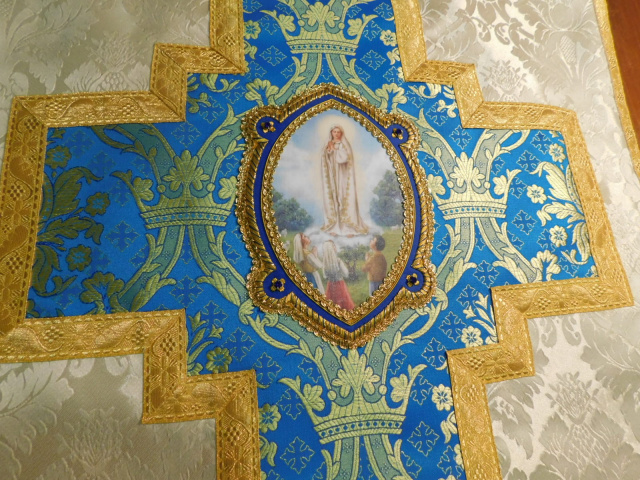 October 13, 1917
"..I am the Lady of the Rosary, I have come to warn the faithful to amend their lives and ask for pardon for their sins. They must not offend Our Lord any more, for He is already too grievously offended by the sins of men. People must say the Rosary. Let them continue saying it everyday. I would like a chapel built here in my honor. The war will end soon..."

MAY OUR LADY OF FATIMA PROTECT EACH AND EVERY ONE US! Thank you for visiting this site!

BELOW: Marian semi-Gothic Vestments with matching Dalmatic, completed in June, 2023.
ROMAN VESTMENT SET IN HONOR OF THE
White/gold fabric with rich green/gold accents.
$US690 + Express shipping $US65
READY TO SHIP WITHIN 48 HOURS!
BELOW: Dalmatics completed recently as part of vestments in honour of the great Saint Joseph.
BELOW: Immaculate Heart of Mary Roman vestment set completed February, 2023. This design is based on a previous one, showing the current fabric choices. Please email for updated price! Thank you.
BELOW: Our Lady of Guadalupe Roman Vestment set. This design replaces the previous one listed on this site. I can also sew custom vestments according to your budget! Contact me for pricing and options.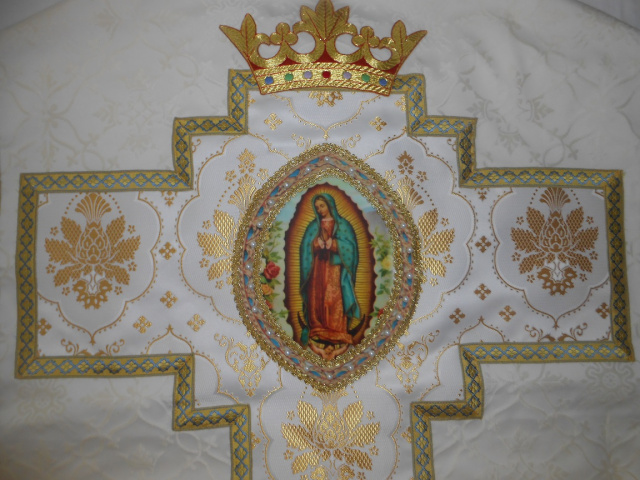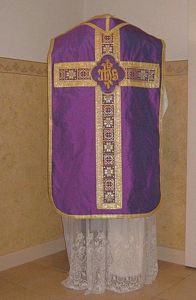 Pope Benedict XVI - Requiescat in Pace!
May the soul of Pope Benedict XVI rest in peace. I have the honour of having this Pontiff of the Roman Catholic Church, wear one of my Chasubles and also the matching Cope as shown in the photo below.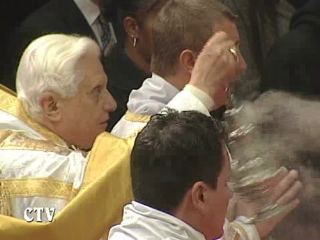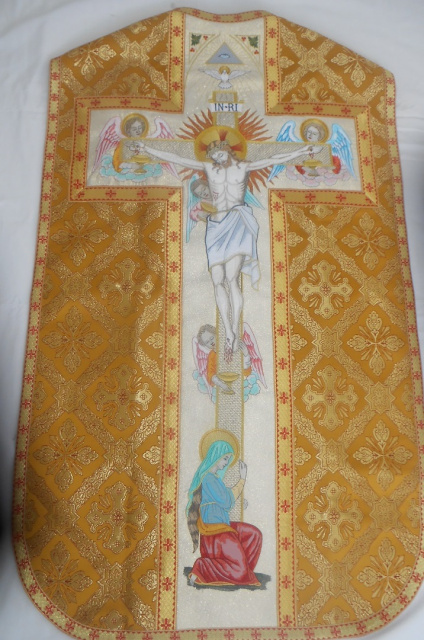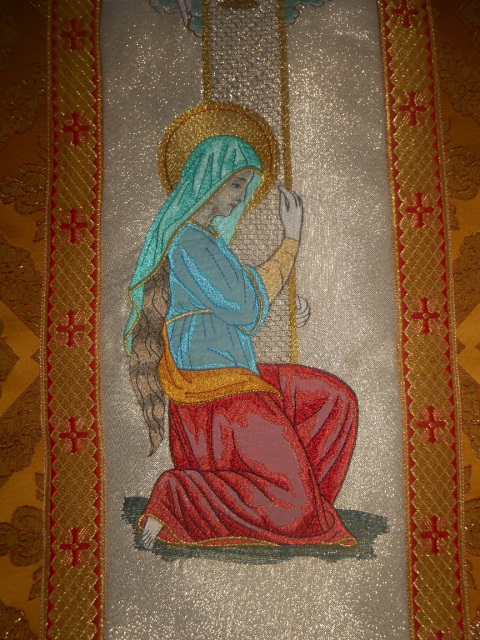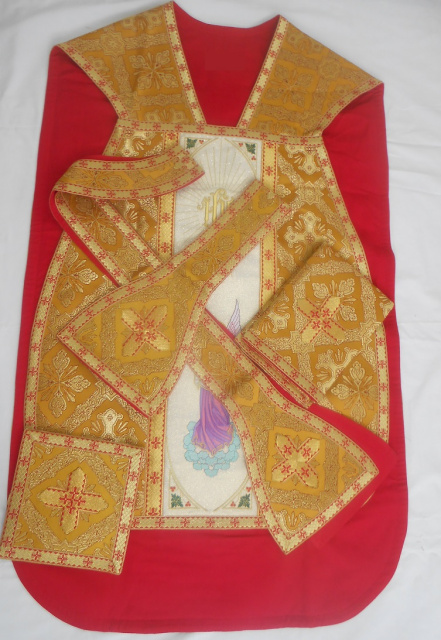 ABOVE: Roman Vestment Set available also as Requiem Vestments in Black/Silver $US1990, plus shipping $US75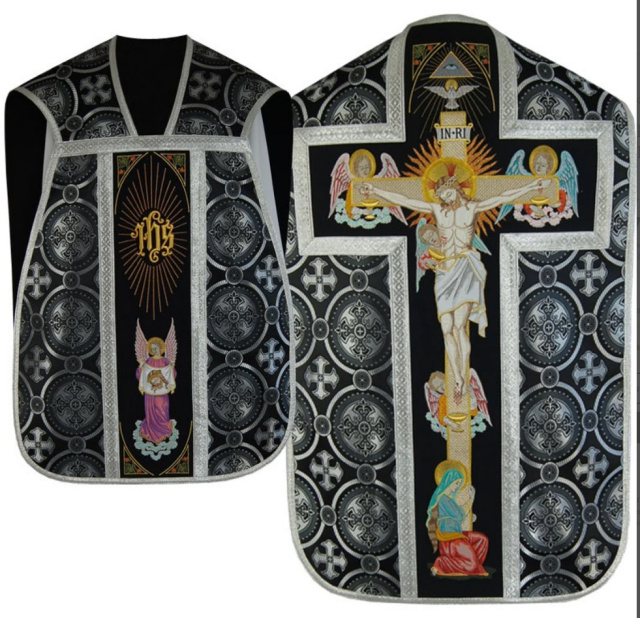 NOVEMBER, 2022 - Month of the Holy Souls. NEW design in ivory shade pure silk fabric, with red/gold theme. Embroidered IHS on back of the Roman Chasuble. This set has gone to Utrecht, Netherlands, to hopefully serve many years as a first class, beautiful set of Vestments. Please inquire for current price or other options using more standard fabric and trims.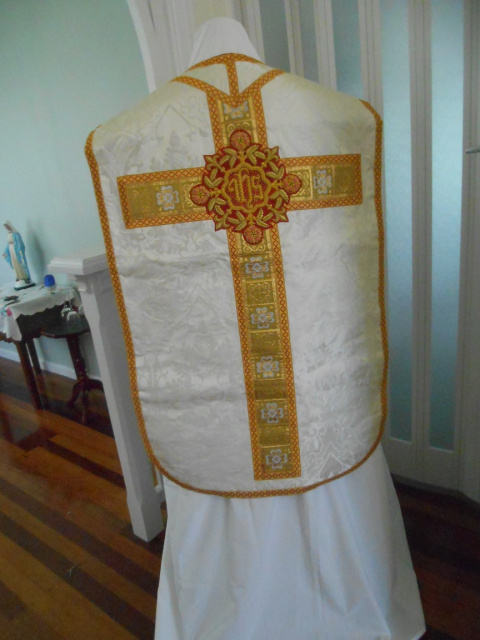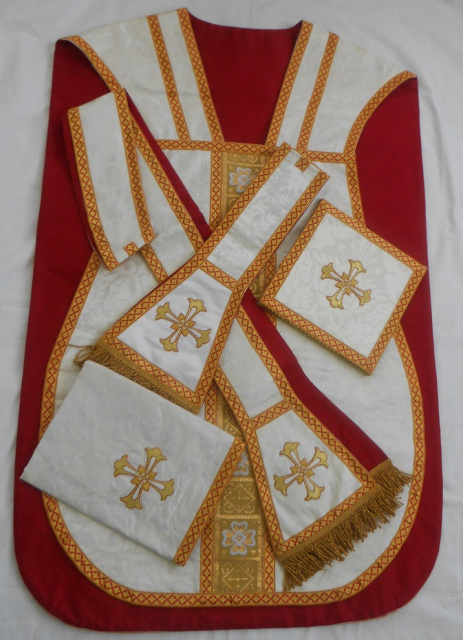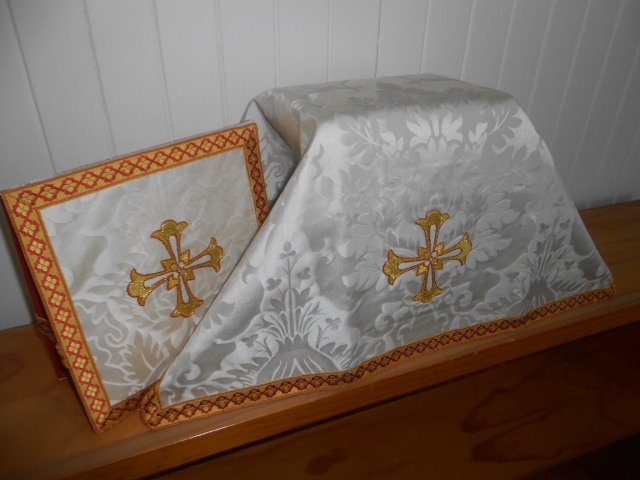 OCTOBER, 2022 - Month of the Holy Rosary - $US790: Priced for quick sale - 1 ONLY, quality Gothic Cope. Beautifully embroidered and fully lined, with outstanding workmanship. Excess stock, must be sold. Half price SHIPPING just $US30.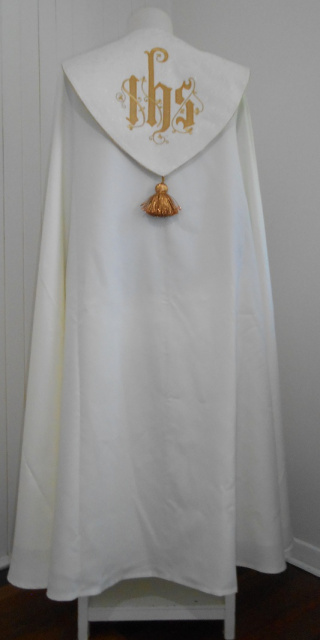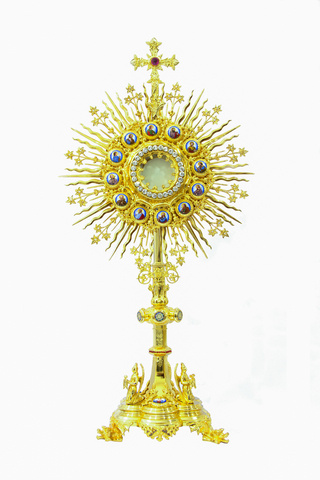 SOLD! Marian Vestment Set Special for June! Priced to Sell Quickly: $US890, plus shipping $US65 for International Express.
I have available for immediate purchase and shipment within 36 hours, a beautiful Roman Vestment in honour of Our Lady of Lourdes, in white.
This set uses available fabrics and trims I have inhouse, and the pure silk blue lining is the last available. Unless I hand dye silk in this shade for future sets, it is not replicable. However, there would be the option of starched cotton lining in the same shade.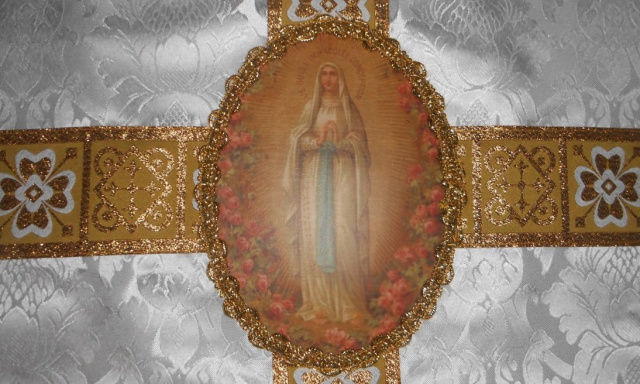 A glance back at work completed in June, 2016: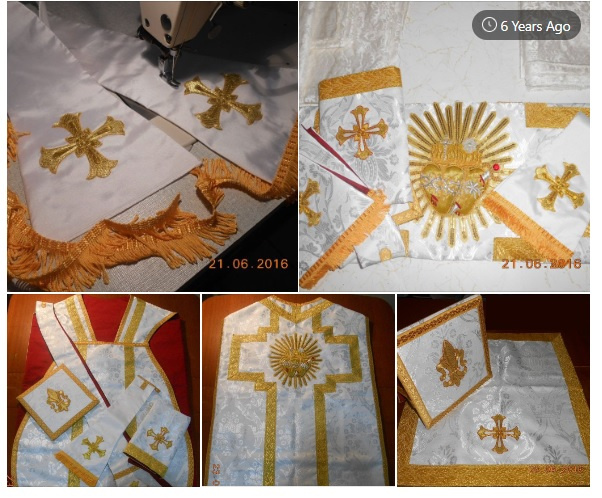 1 only simple Processional Canopy in stock available for immediate shipping.
Light weight and perfect also for pilgrimages or similar.
Express International Shipping: $US55
ANNOUNCEMENT! 2023 is approaching fast!
Next year, 2023, will be the 25th Anniversary of this business venture.
I started in 1998 with $54 worth of linen and an inspiration to just 'sew Mass Linens'. I have decided that 2023 will be a 'Celtic Vestment Year' focussed on creating uniquely meaningful Celtic themed vestments and related Sacristy as far as possible.
Ascension Thursday, May 26th, 2022: CLOTH OF GOLD Roman Vestment Set with Celtic Theme
BELOW: This beautiful vestment was a restoration project from 2013. I can sew a replica, using the same cloth of Gold and machine embroidered version of the Celtic Cross. Please contact me to discuss such a project! The design can be adapted to a simpler version (i.e. less extensive embroidery) to suit a range of budgets.
NEW FOR 2022 ASCENSION TIDE: $US1995 - Roman Vestment design with Crucifixion Scene embroideries. Available in gold/gold or Requiem Black/Silver.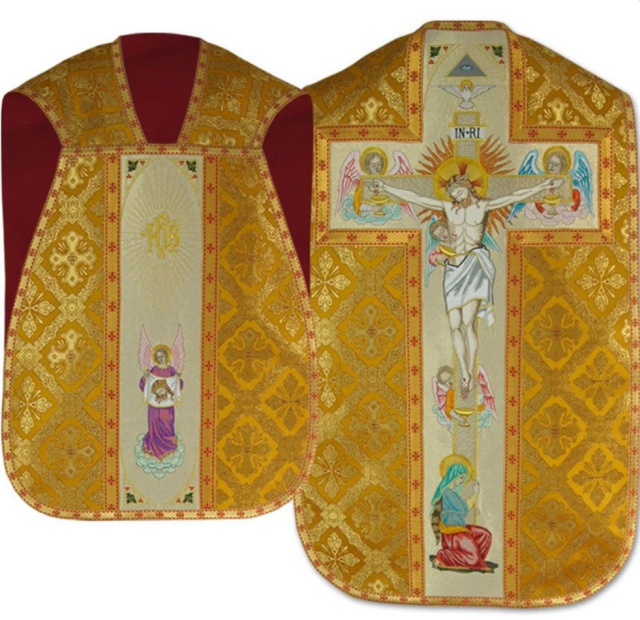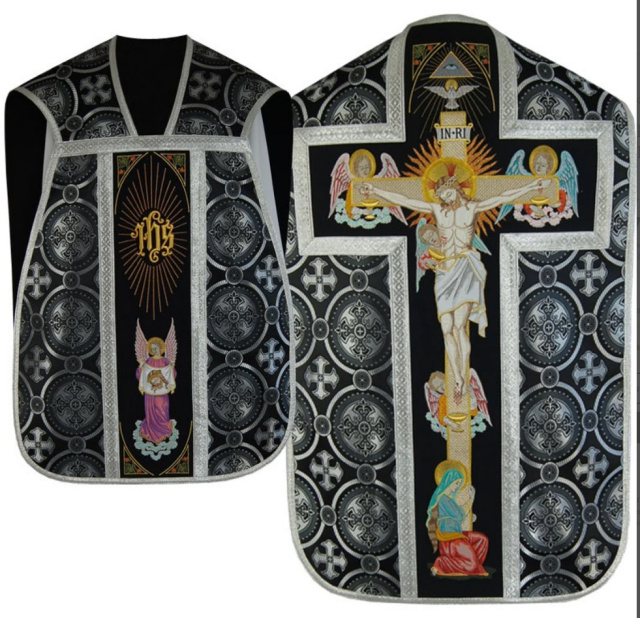 3rd MAY 2022 - Roman Italian style vestment set in rich cream British fabric with blue/gold geometric pattern galloon. Please email for current quote.
BELOW - Our Lady of Guadalupe Roman Vestment using Ely and Evesham British fabrics. Contact me for the current price. Thank you!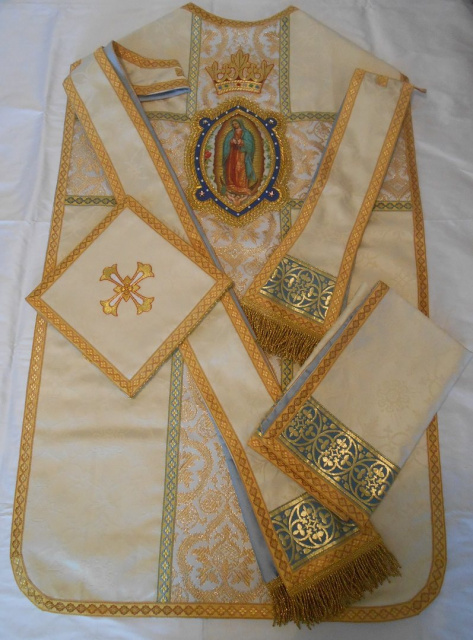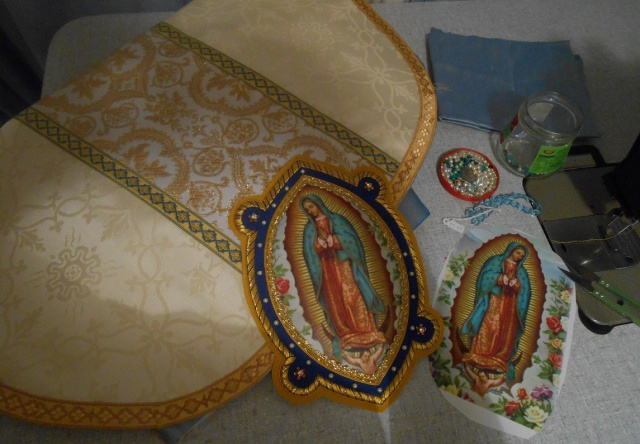 AVAILABLE FOR IMMEDIATE PURCHASE $US790: Semi-Gothic set of vestments in white with unique emblem of SAINT JOSEPH