Time after Pentecost 2023

BELOW: Marian semi-Gothic Vestments with matching Dalmatic, completed in June, 2023.
ROMAN VESTMENT SET IN HONOR OF THE
White/gold fabric with rich green/gold accents.
$US690 + Express shipping $US65
READY TO SHIP WITHIN 48 HOURS!
BELOW: Dalmatics completed recently as part of vestments in honour of the great Saint Joseph.
BELOW: Immaculate Heart of Mary Roman vestment set completed February, 2023. This design is based on a previous one, showing the current fabric choices. Please email for updated price! Thank you.
BELOW: Our Lady of Guadalupe Roman Vestment set. This design replaces the previous one listed on this site. I can also sew custom vestments according to your budget! Contact me for pricing and options.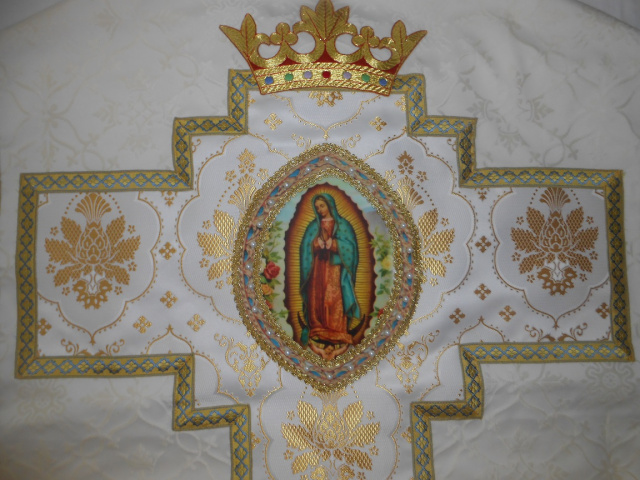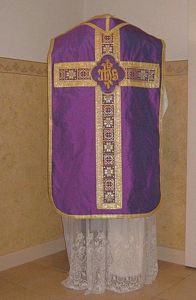 Pope Benedict XVI - Requiescat in Pace!
May the soul of Pope Benedict XVI rest in peace. I have the honour of having this Pontiff of the Roman Catholic Church, wear one of my Chasubles and also the matching Cope as shown in the photo below.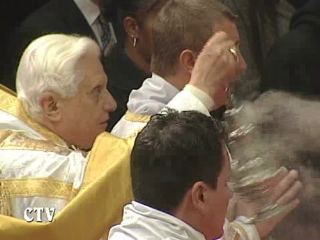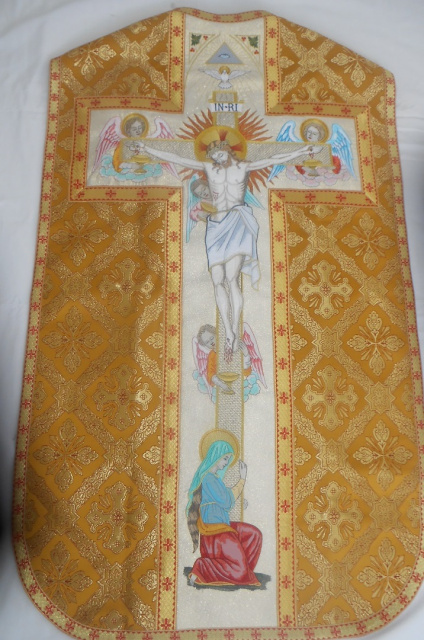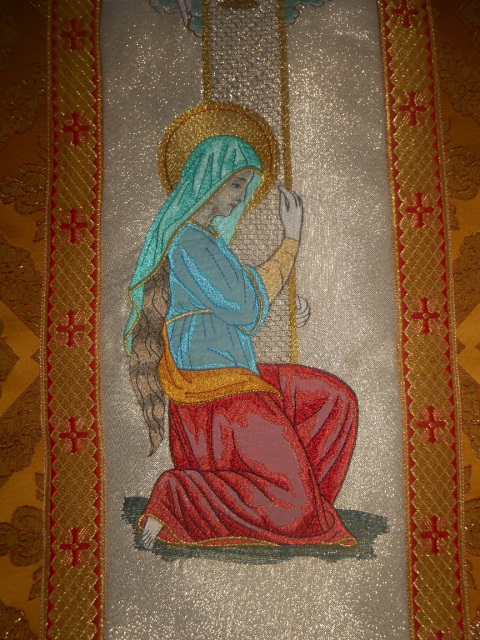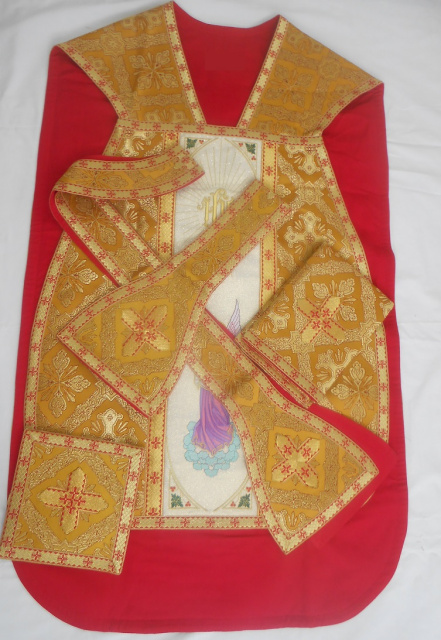 ABOVE: Roman Vestment Set available also as Requiem Vestments in Black/Silver $US1990, plus shipping $US75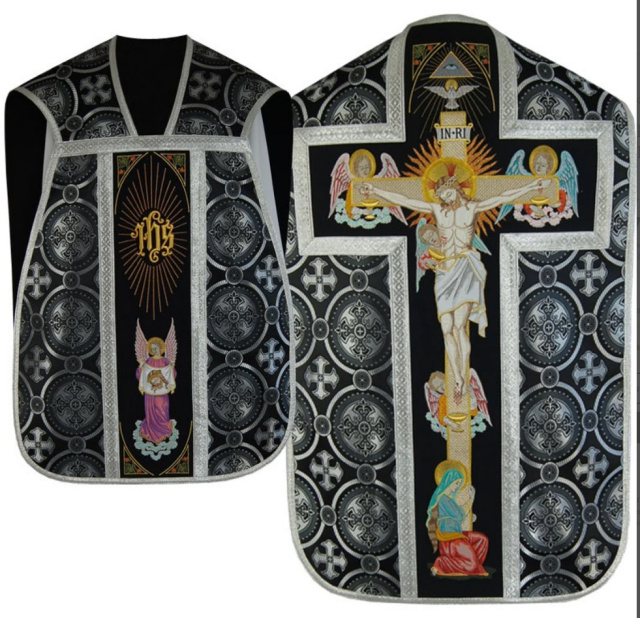 NOVEMBER, 2022 - Month of the Holy Souls. NEW design in ivory shade pure silk fabric, with red/gold theme. Embroidered IHS on back of the Roman Chasuble. This set has gone to Utrecht, Netherlands, to hopefully serve many years as a first class, beautiful set of Vestments. Please inquire for current price or other options using more standard fabric and trims.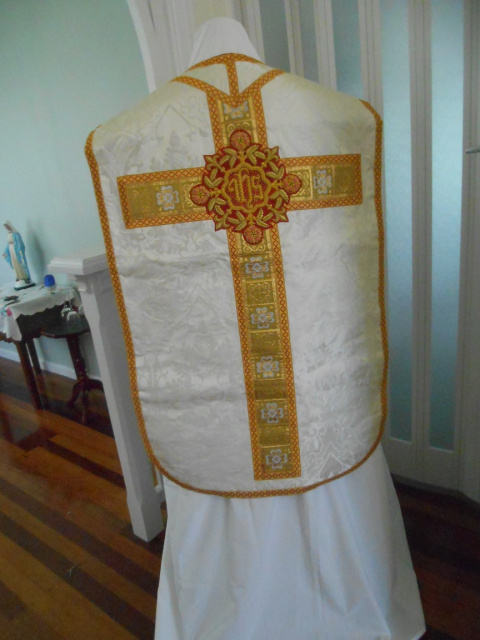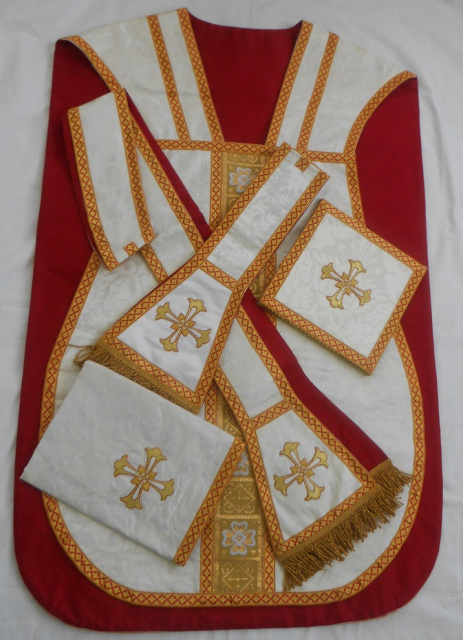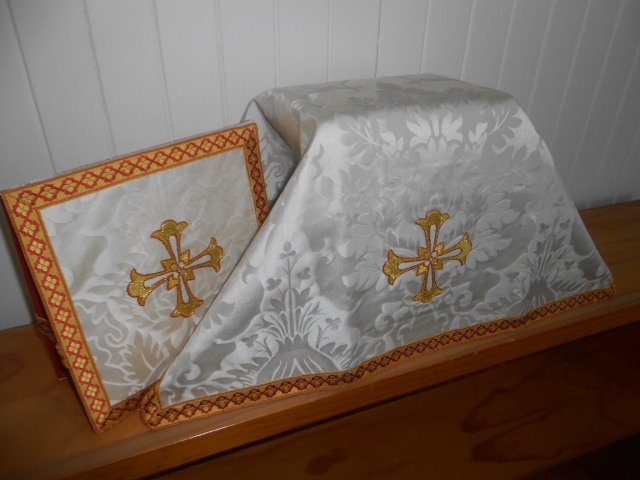 OCTOBER, 2022 - Month of the Holy Rosary - $US790: Priced for quick sale - 1 ONLY, quality Gothic Cope. Beautifully embroidered and fully lined, with outstanding workmanship. Excess stock, must be sold. Half price SHIPPING just $US30.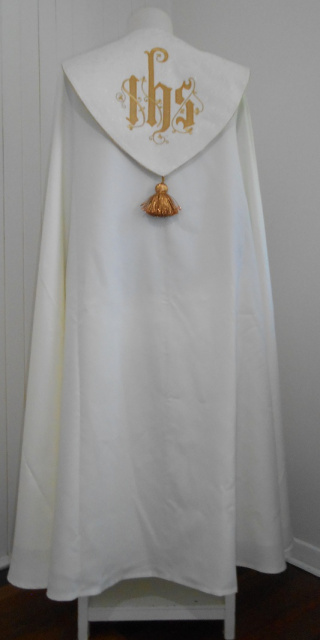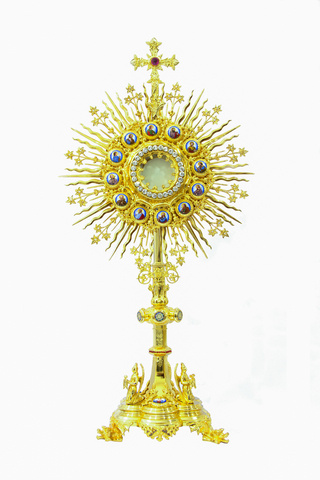 SOLD! Marian Vestment Set Special for June! Priced to Sell Quickly: $US890, plus shipping $US65 for International Express.
I have available for immediate purchase and shipment within 36 hours, a beautiful Roman Vestment in honour of Our Lady of Lourdes, in white.
This set uses available fabrics and trims I have inhouse, and the pure silk blue lining is the last available. Unless I hand dye silk in this shade for future sets, it is not replicable. However, there would be the option of starched cotton lining in the same shade.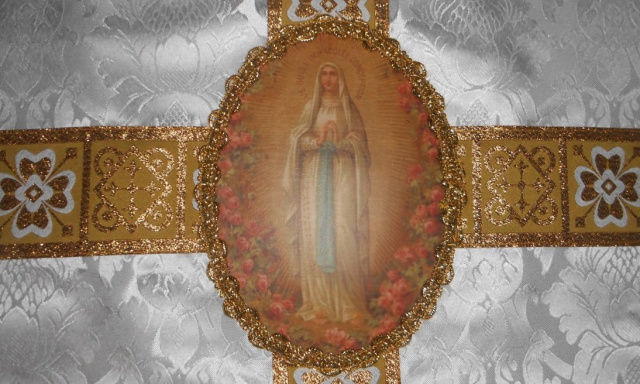 A glance back at work completed in June, 2016: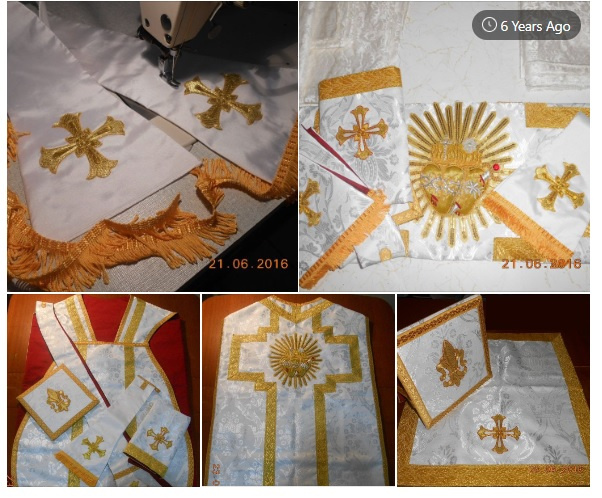 31st May, 2022 - NEW! $US399
1 only simple Processional Canopy in stock available for immediate shipping.
Light weight and perfect also for pilgrimages or similar.
Express International Shipping: $US55
ANNOUNCEMENT! 2023 is approaching fast!
Next year, 2023, will be the 25th Anniversary of this business venture.
I started in 1998 with $54 worth of linen and an inspiration to just 'sew Mass Linens'. I have decided that 2023 will be a 'Celtic Vestment Year' focussed on creating uniquely meaningful Celtic themed vestments and related Sacristy as far as possible.
Ascension Thursday, May 26th, 2022: CLOTH OF GOLD Roman Vestment Set with Celtic Theme
BELOW: This beautiful vestment was a restoration project from 2013. I can sew a replica, using the same cloth of Gold and machine embroidered version of the Celtic Cross. Please contact me to discuss such a project! The design can be adapted to a simpler version (i.e. less extensive embroidery) to suit a range of budgets.
NEW FOR 2022 ASCENSION TIDE: $US1995 - Roman Vestment design with Crucifixion Scene embroideries. Available in gold/gold or Requiem Black/Silver.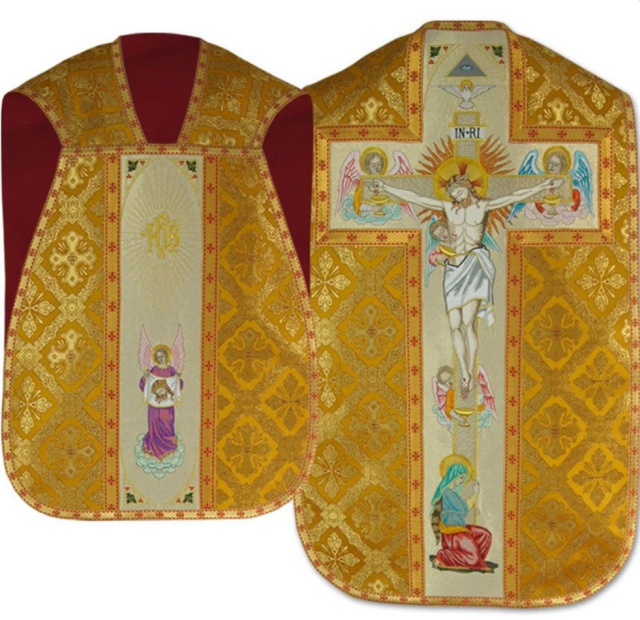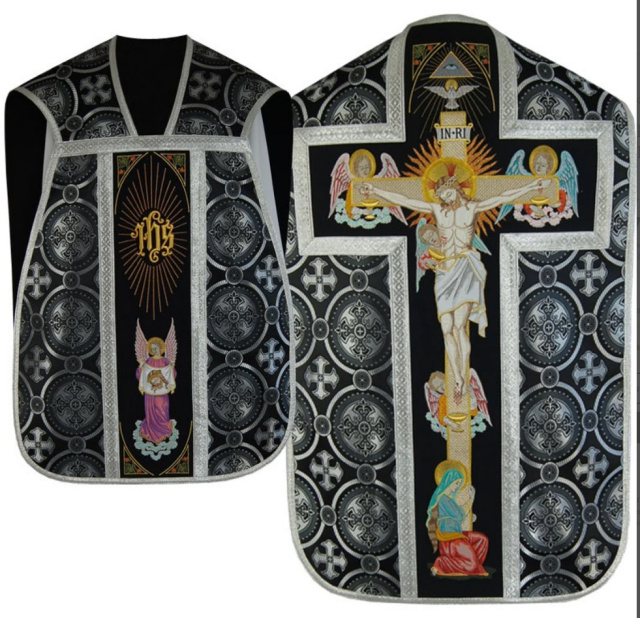 3rd MAY 2022 - Roman Italian style vestment set in rich cream British fabric with blue/gold geometric pattern galloon. Please email for current quote.
BELOW - Our Lady of Guadalupe Roman Vestment using Ely and Evesham British fabrics. Contact me for the current price. Thank you!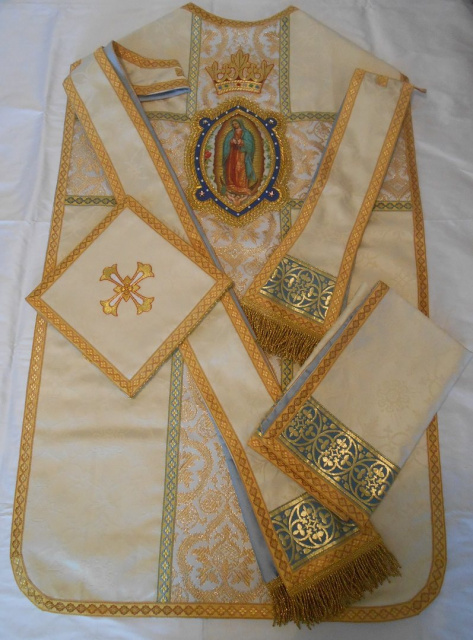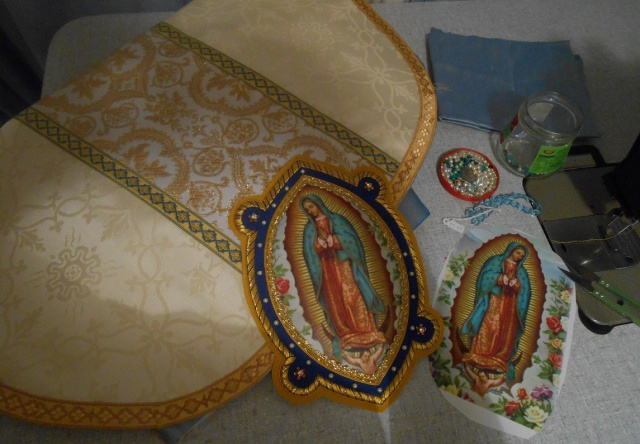 AVAILABLE FOR IMMEDIATE PURCHASE $US790: Semi-Gothic set of vestments in white with unique emblem of SAINT JOSEPH