October 11th, 2021: 35 years ago on this date, I arrived in the United States, aged 24 and one week, to 'try' my vocation with a traditional Catholic congregation of Sisters. I put in 7.5 years and the day I knew my life lay elsewhere, I asked myself: 'What do I do now?' I knew instantly that I would sew Sacristy items. Interestingly, that spot where I was standing in Sydney asking God this question, now has a statue of Our Lady of the Sacred Heart with the Child Jesus on it. To those who love God, all things work together unto good! I appreciate the time I spent in the religious life, but am very grateful to God for my life now which is dedicated to this work.
To return to more important considerations: the vestment production is moving quickly, though I am totally snowed under with a backlog of orders. I owe my customers a dedicated and concentrated work effort over the next seven to eight weeks, which I am mapping out this week. This will see completed three Saint Joseph Roman sets, two Processional Canopies and at least five or six other vestment sets and two Dalmatics. I would like to take a couple of days to drive to Airlie Beach to visit plant nurseries for shrubs and hedging. The support from the international community has been astounding as far as vestment sales go! Thank you to each and every customer who has purchased items from this site in recent weeks. Australia is being pummelled by the push for draconian control measures bordering on tyranny. The statements and goals of our politicians and those who are puppeteering this 'crisis' are unbelievable. Thousands of our dedicated police, healthcare workers, teachers, tradesmen and those in other industries face being sacked over mandatory vaccine orders! It seems to me that an unseen power is moving this country towards conflict and chaos. If the vaccine orders are only supposed to be in effect six months, or a year, will they rehire these workers? I doubt it. Clearly, the agenda is to permanently require a 'medical' status of booster shots and never ending vaccines, without which one will not be able to function in society.
September 17th, 2021: Here it is, mid-September already! Ok, so scheduled for completion asap are the three Saint Joseph Roman vestments. The design I came up with is beautiful, and based on the original silk version sewn in early 2020.
Deo Gratias, I have bought a wonderful new high speed sewing machine! After over a year struggling with simpler machines, the new machine provides effortless sewing and obviously, production will now return to former capacity. Thank you, Saint Alphonsus! I asked this great saint to send me some sales in early August. Not only did Saint Alphonsus find me a buyer for a new, Immaculata Roman vestment in record time, but sales continued. Note that all this happened 24 hours after I had spent eight hours getting my 'social security' paperwork in order, as the outlook appeared grim! The result was total sales revenue for the month not seen since before the GFC hit in 2008, and the need for government assistance was quickly ditched! Out and about in North Queensland, we are still enjoying a very high level of unrestricted freedom here with zero lockdowns and other restrictions. I work from home, so any 'surprise' lockdowns that may occur here should not affect my work.
Seen on the left is a highlight of the new, inhouse produced emblem of Saint Joseph and the child Jesus. I can use any image you wish, but it needs to be a clear resolution. It takes about an hour or so of careful right and left clicking in the digitizing software program to clearly draw each outline and then get creative as to what type of stitch I would like these to be. The neckline of the Little Infant is in a 'stem stitch, with a radiating satin stitch used to create the Halo. I try to recreate hand embroidery as far as possible, and to not just squash stitches on top of each other simply because 'the program' is automated to do that. I want to shift to 100% inhouse work, rather than relying on shoddy so-called 'bullion embroidery' made overseas by careless people. Which reminds me, I will be attempting Episcopal Gloves soon! God bless you all!
17 Sept, 2021: NEW ROMAN REQUIEM VESTMENT: I have just completed today a new version of a Standard Roman in Requiem black with gold tones. I have to get this to the post office, so will create the sales page with price within the next few days.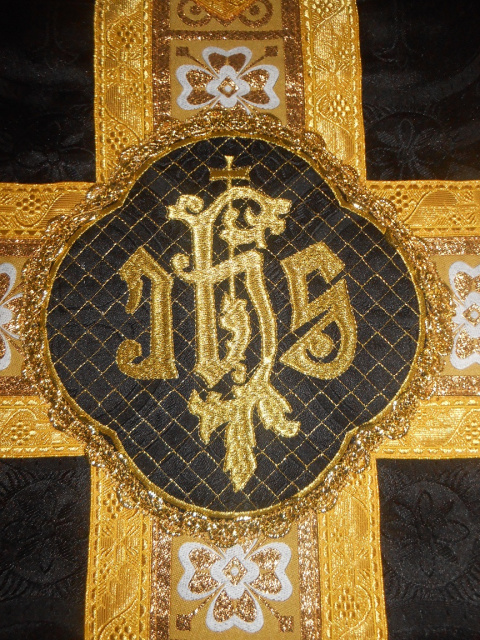 '..Lux aeterna
luceat eis Domine
cum sanctis Tuis
in aeternum, quia pius es!
REQUIEM aeternam
dona eis Domine,
et lux perpetua
luceat eis!
In Memoriam:
Father Dominique Bourmaud
Rest in peace, Father!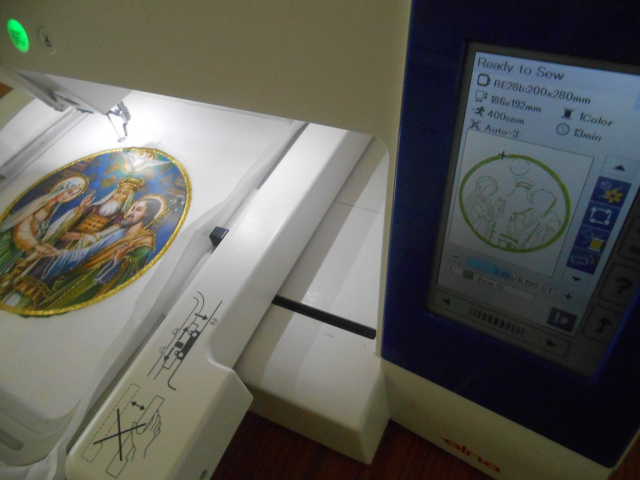 ANNOUNCEMENT 20 August, 2021! I live on the Whitsunday Coast, a long way from the lockdowns occurring in the southern states of Australia. Please do not worry about your vestment orders. However, I am slightly behind with my work, and will be contacting customers asap. LOCKDOWN NON EST HINC!
August 2021 - Month of the Assumption and the Immaculate Heart of Mary:
DISCOUNTED TO $US490 - Ornate Spanish Cope 60" back length, extensive embroidery.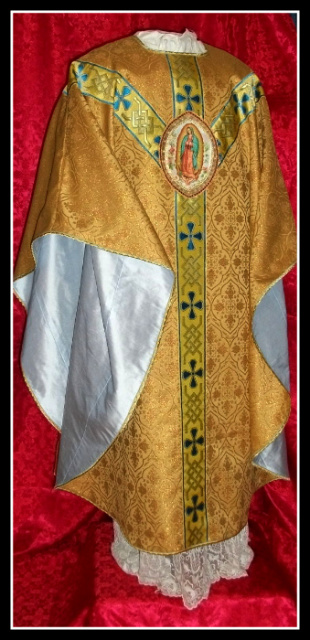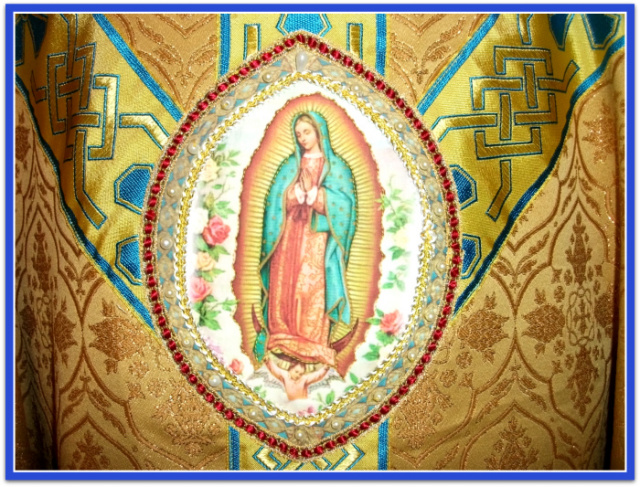 After 10 years, this beautiful Marian Guadalupe Vestment set is here for the world to see! I sewed this set in 2011. Please email me for the price!
BELOW: The Guadalupe Roman Vestment set shown below was sewn in 2016! Please email me for the current price. Currently, (May, 2021) you would be looking at around $US990 for this set. It is in pure silk, with gold galloon, machine embroidered Crosses, blue/gold British trimming and a custom emblem of Our Lady of Guadalupe. I can create any custom vestment design, made to measure if requested!
VIEW LARGER IMAGES HERE, or click on one of the photos below!
NEW! Marian Vestments in Italian Silk!
$US2290 plus shipping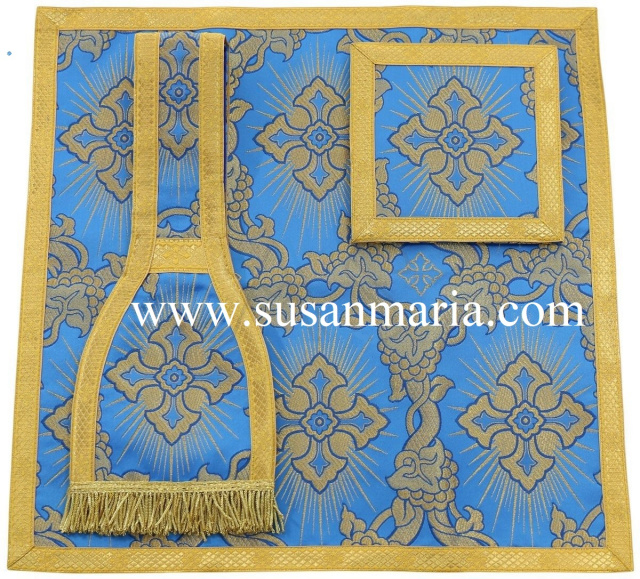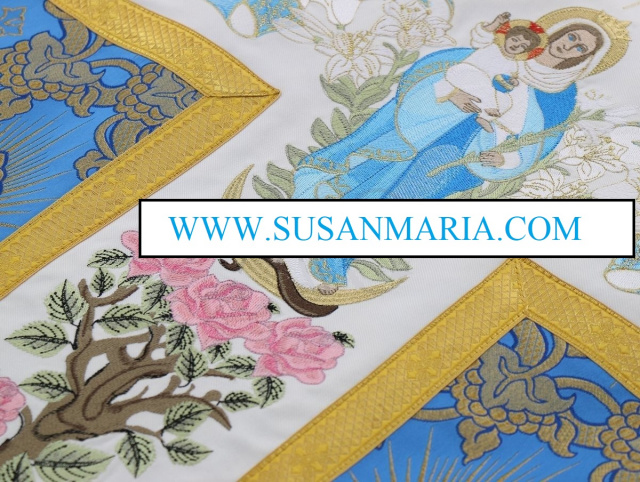 Cloth of Gold Roman Vestments in honour of the great Saint Patrick of Ireland! Please email me for current price.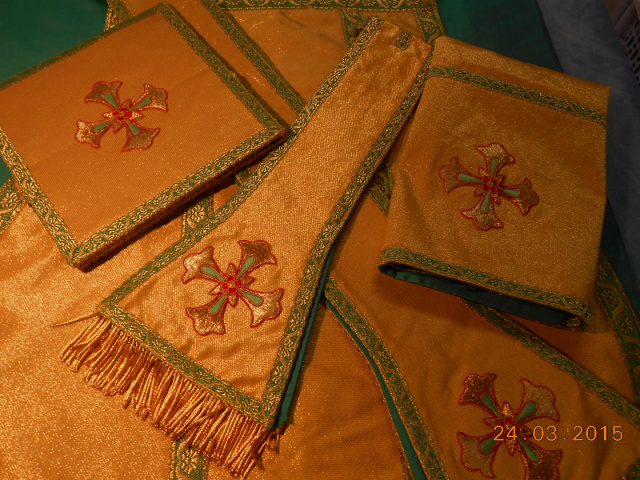 NEW! Sacred Heart of Jesus Roman Vestment Design: $US1850
LEFT: Roman Vestments in honour of the Sacred Heart of Our Divine Saviour, completed in September, 2019: Crafted in quality British gold/gold fabric, with the beautiful Cross Panel on the Chasuble back and front sewn from red/gold Russian fabric. Extensively trimmed in French red/gold galloon and lined in pure silk. The emblem of the Sacred Heart is custom made, and not available elsewhere. Please email me directly to order this unique design!
"... Adeamus cum fiducia ad thronum graciae, ut misericordiam consequamur,
et gratiam veniamus in auxilio opportuno.."