Due to the ongoing 'COVID-19' crisis, THIS PAGE HAS BEEN FROZEN IN TIME! However, yes, I am taking orders and sewing, and look forward to your inquiries and working with you on any vestment sewing project you may have.
A blessed and joyous Easter!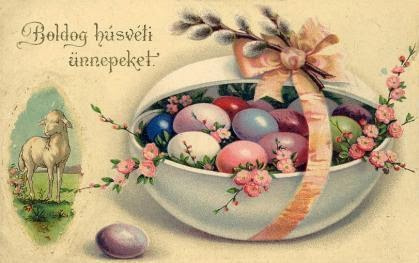 NEW! Honoring Saint Joseph - SALE PRICE $US890 - NOW $US690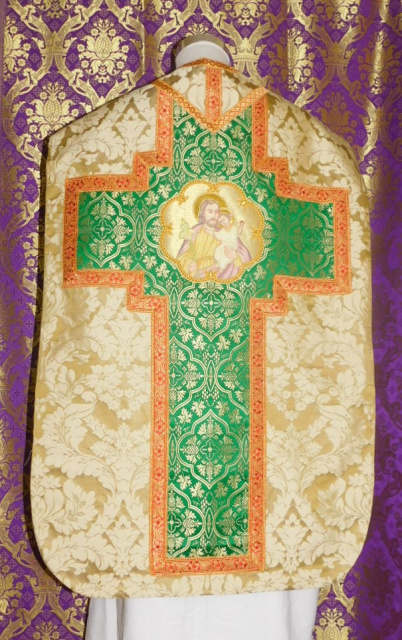 $US200 price cut mainly due to the $US strengthening over the few days against the $AU! Amazing!
Using materials and trim in stock, I have created this beautiful Fiddleback Roman vestment set in honor of St. Joseph. Offered at discounted price! To do this from scratch and having to import all the materials and trims, would make the price significantly higher.
Sewn from a high quality pure 100% silk gold/gold jacquard, featuring Russian green/gold fabric Cross Panels, red/gold French galloon and lined in 100% silk Tafetta. The Chasuble has a unique Saint Joseph emblem. Any questions - please email me!
NEW! Embroidered Marian Banner in Royal Blue Velvet
A regal banner in honour of Our Blessed Mother. The banner measures 25" x 45", but can be custom sewn to size. Extensively embroidered and trimmed as shown.
$US1190 for a limited time only.
This Banner has a clear plastic window to allow for rotating images according to the Feast Day (the image in the photo on the left has been super imposed). However, you can request a specific image.
NEW! Sacred Heart of Jesus Roman Vestment Design: $US1850
LEFT: Roman Vestments in honour of the Sacred Heart of Our Divine Saviour, completed in September, 2019: Crafted in quality British gold/gold fabric, with the beautiful Cross Panel on the Chasuble back and front sewn from red/gold Russian fabric. Extensively trimmed in French red/gold galloon and lined in pure silk. The emblem of the Sacred Heart is custom made, and not available elsewhere. Please email me directly to order this unique design!
"... Adeamus cum fiducia ad thronum graciae, ut misericordiam consequamur,
et gratiam veniamus in auxilio opportuno.."