Vestments: Roman and Gothic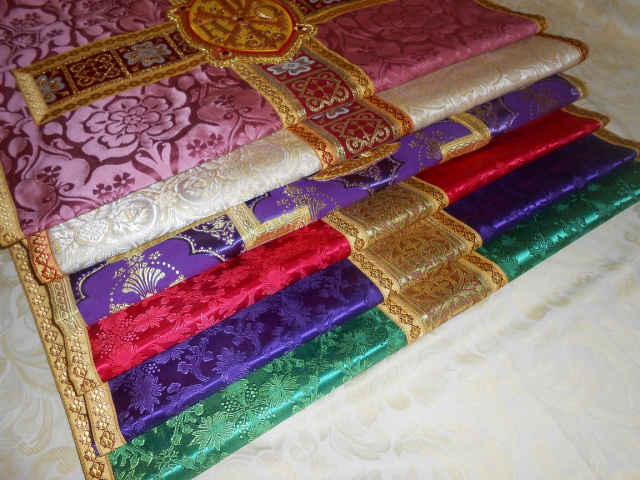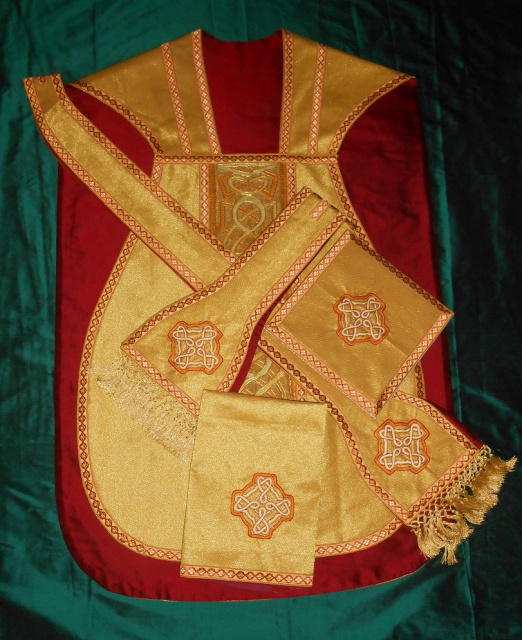 Each set of Roman Vestments is complete with all five pieces: Chasuble, Stole, Maniple, Chalice Veil and Burse. If you have any questions, please ask! These Vestments are very attractive, well made and worth the investment.
A NOTE ABOUT THE FABRICS: I source Church fabrics and fabrics suitable for Catholic vestments, from all over the world. The six Roman chasubles shown in the photo above show rose 'Winchester' fabric from Britain, white/gold 'Normandy' fabric from the USA, purple/gold fabric from Russia, and standard rayon weave church fabric in red, purple and green. The Roman vestment set shown on the right, is crafted from genuine Cloth of Gold, with pure silk lining. This was a major restoration project for the Latin Mass parish of Father Michael Rowe, Perth. The celtic Crosses on the Stole, Maniple, Burse and Chalice Veil were embroidered for me overseas in bullion thread to match the vintage embroidery of the original pieces. The point of all this information is to advise the customer researching vestment supplies, that I have an extensive range of choices to draw upon when quoting for vestments, if you do not see something in the photo gallery that you would like.
* PRICES CAN CHANGE WITHOUT NOTICE.