| | |
| --- | --- |
| Price: | $899.00 |
| Availability: | made to order |
| Prod. Code: | PURPLELENT2009 |
From the fair shores of Australia....
a Roman Vestment set in Lenten Purple
Here is a wonderful, brand new set of traditional Catholic vestments, made in the Roman style. All five pieces included. This set of vestments is crafted from a purple on purple church rayon fabric. It is lined in a quality satin lining, also in a purple. The Burse has been lined in a pure 100% silk lining of a pale gold shade.
Chasuble
The chasuble measures 42" approximately in length from the base of the neckline curve at the back. It is 27" wide. Imported 3" Maltese Cross banding has been used on the front panel of the Chasuble, and this banding also forms the Cross on the back. It has then been edged in a quality British 3/4" gold/gold trimming. The chasuble edges are also trimmed in this galloon.
A bullion embroidered 9" emblem featuring a Chalice and Host design has been applied to the centre of the Cross.
STOLE & MANIPLE
The Stole is 4 1/4" wide approximately, and measures a generous 42" from the 'v;' at the back. The Maniple is 18" in length. Both items have been fringed in a strong gold shade rayon fringing, and the ends are trimmed with the 3" banding as the photos show. Greek Crosses are applied to the centre v' of the Stole and the centre of the Maniple.
BURSE & CHALICE VEIL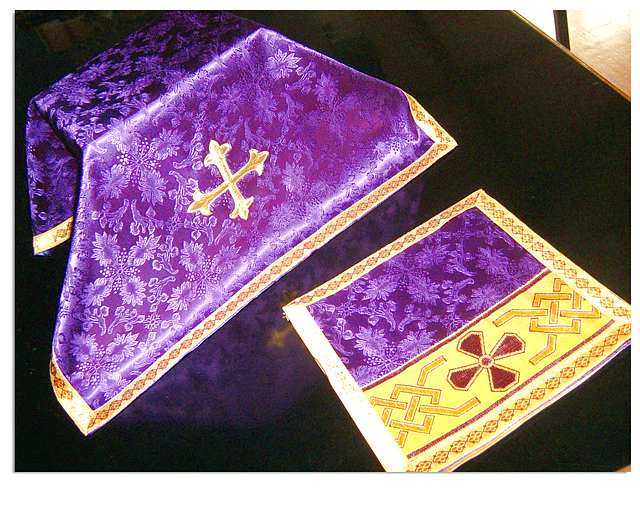 The Burse is the traditional 9" square design. It features the 3" banding and the 3/4" gold/gold trimming also. Lined in pure 100% silk. Burse closure is by links made from the 3/4" trimming.
The Chalice Veil measures 19" wide x 21.5" deep. A 4" gold Greek Cross has been applied to the front of the Chalice Veil and the edges are trimmed with the 3/4" gold trimming.
This is a very nice set of brand new vestments. Buy this set now and it can still be used for the remaining Sundays in Lent.
The current strength of the $US here in Australia makes this a well priced listing.
SHIPPING: $US55 for Express Courier International.
IF YOU ARE HAVING TROUBLE DOWNLOADING THE PAGE (DUE TO THE IMAGES) or cannot see the photos clearly enough, please email me and I can send you photos via email).
Thank you and God bless you! Have a blessed Season of Lent.
Crux fidelis inter omnes
arbor una nobilis
nulla silva talem proffert
fronde flore germine
Dulce Lignum, dulces clavos..
Dulce pondus sustinet...