| | |
| --- | --- |
| Price: | $1,290.00 |
| Prod. Code: | GUADALUPE_Roman |
UPDATE 2016 AVAILABILITY - PLEASE NOTE: The beautiful ivory 'St. Benedict' fabric used for this vestment design, is no longer available, due to the manufacturer ceasing production of it. Fabric availability is entirely beyond my control.
The new replacement fabric for this design is the British weave 'Ely' shown below in the first photo. There are some richer (and more expensive fabrics available) also, such as the British 'Tudor Rose' (see 2nd photo below), weave. Please contact me if you would like to see other options and obtain price quotes. Vestment crafting is a highly custom work, and I will always try to obtain the best alternative options available.
ELY FABRIC TUDOR ROSE FABRIC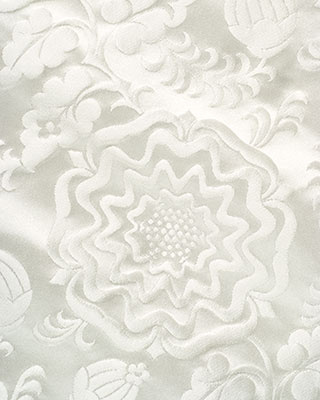 Five piece vestment set in honor of Our Lady of Guadalupe.
Made from British fabric in either ivory or white on white shade. Other options are gold or gold/white. Please contact me to discuss any custom aspects of this design. The design features the Cross on the back of the Chasuble made in a high quality Russian white/gold brocade. The emblem is that of Our Lady of Guadalupe. The entire set is trimmed in gold/blue, or gold/gold British Quatrafoil 3/4" trimming, and 3" banding.
Lined in pure 100% silk.
Set includes Roman Chasuble, Stole, Maniple, Burse and Chalice Veil.
SHIPPING: $US90 for ECI express courier international shipping of 4 - 5 days transit time from Australia to USA.
DELIVERY TURNAROUND: Please order early!