| | |
| --- | --- |
| Price: | $1,199.00 |
| Availability: | custom sewn to order |
| Prod. Code: | CORMARIAE2017 |
Here is a beautiful new Roman Italian vestment design, to honor
the Immaculate Heart of Our Blessed Lady.
DISCOUNTED SHIPPING OF ONLY $US45 for International Express!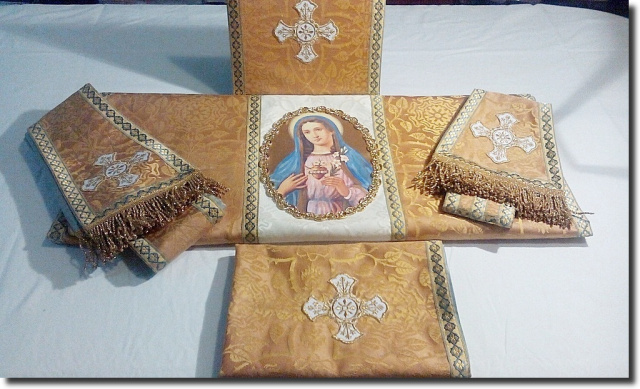 PLEASE NOTE: I have misplaced my digital camera and these photos were taken on a Sony Handycam and my cell phone. Neither of these have produced good photos, but I have uploaded the best ones. Please be assured that the gold Glastonbury vestment fabric is a true strong gold shade. The entire set is extremely beautiful and I will be sorry to see it leave the Studio. The closer shots show the blue/gold trimming accurately.
Crafted from quality British church fabric, this design uses a stunning combination of gold/gold 'Glastonbury' fabric, and white 'Ely'. Fully lined in 100% pure silk lining in a wonderful Marian blue shade.
Extensively trimmed in 3/4" British Quatrafoil trimming.
THE CHASUBLE- The Chasuble measures 26.5" across the shoulders at back, and 39" approximately from the base of the neckline at back. The Chasuble combines gold and white quality fabrics to the best advantage. The Chasuble is fully interlined with a quality woven cotton interlining, to give the Chasuble a good draping effect, without it being like a suit of armour.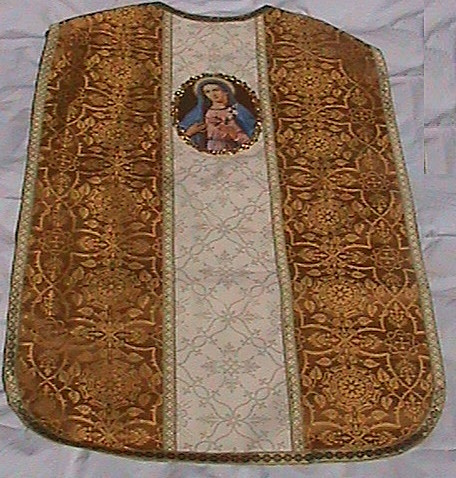 EMBLEM OF THE IMMACULATE HEART OF MARY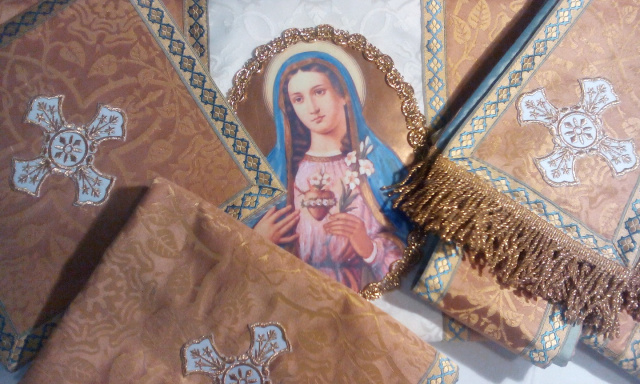 The Chasuble back has a beautiful emblem of the Immaculate Heart of Mary. I have hand painted over the emblem in soft tones. Multiple layers of tempera and a professional artist quality sealing medium have been used to seal the artwork and ensure that the emblem is durable. However, if you order this wonderful vestment set and have any complaints about the emblem at any time, please contact me.
STOLE & MANIPLE
The Stole measures a generous 47" in length and six inches at the base. The maniple is 19" in length and 7" at the base. Both are fully trimmed around the edges and have quality gold fringing. Adorning the Stole and Maniple ends are beautifully embroidered, Byzantine style Crosses.
CHALICE VEIL
The Chalice Veil is approximately 20" square, but can be slightly larger in size if requested. It is trimmed in the blue/gold 3/4" Quatrafoil trimming and features an embroidered Cross as shown on the photos.
BURSE
The Burse is 9" x 9" square, fully lined in Marian blue silk, trimmed on both the front and back, and it has a matching 4" Byzantine Cross on the front.