| | |
| --- | --- |
| Price: | $750.00 |
| Availability: | in stock |
| Prod. Code: | White/Gold Nativity |
This is a Roman set of Vestments made from a white/gold metallic fabric. All five pieces included in the design, as for all of my Roman sets: Roman Chasuble, Stole, Maniple, Burse and Chalice Veil. The close up photo of the narrow trimming shows you the fabric pattern a little better than these photos. The fabric is white/gold, but looks a little silver-ish somehow. It is quite attractive.
** There are additional photos to view if you click on the 'view product images' link above, under the picture of the vestment set near the top of this page.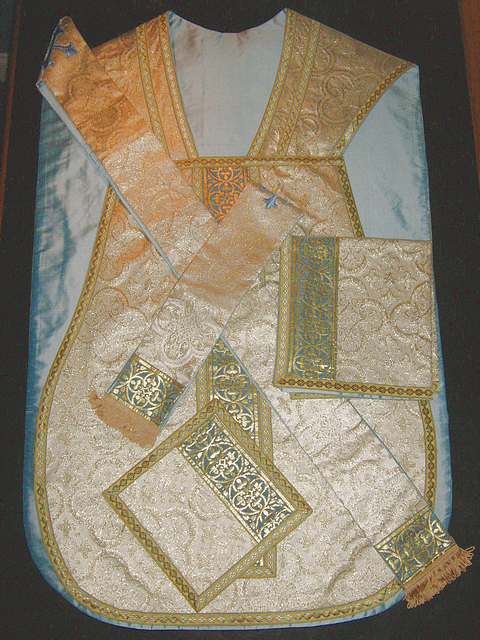 CHASUBLE
The Chasuble is made to measure across the shoulders at back. It is approximately 41" in length from the curve of the back neckline. The Cross on the back and the front panel are formed from 3" British banding in blue/gold, which is trimmed around in 3/4" blue/gold Quatrafoil trimming. The edges of the Chasuble have this trimming also. This blue/gold edging is quite distinct, unfortunately the camera has not brought out the trimming too well in the above photo.
The entire vestment set is lined in 100% pure silk, in a lovely Marian blue shade.
The back of the Chasuble features a unique Nativity emblem.
Stole & Maniple
The Stole measures approximately 43 inches from the 'v' at the neck, and the Maniple is 19 inches in length. Both are fringed in Antique Gold shade rayon fringing, have 3" banding at the ends, and Greek Crosses. Both the Stole & Maniple are approximately 4 1/4" wide.
Chalice Veil
The Chalice Veil measures approximately 21 inches x 19 inches. It has 3" banding along the front and is edged in the Quatrafoil 3/4" blue/gold trimming.
Burse
The Burse is nine inches square and is trimmed as shown. It also in lined in the pure silk. Links made from the narrow trimming form the closure of the Burse.
SHIPPING: $65 for Express Courier International from Australia to the US. This service is very quick and fully trackable - usually taking only four days, but it does depend on Customs at LAX.
* Ask about my half price shipping offers! It is easier for me to discount the shipping for you, if I am able to, than to start giving discounts on the vestments. If possible, I will try to help you **
CLOSE UP OF THE TRIMMING AND FABRIC - in the photo below you can see how lovely the narrow blue/gold trimming is.