| | |
| --- | --- |
| Price: | $990.00 |
| Availability: | This item is usually made to order. |
| Prod. Code: | SilkRoman |
This is a very nice Roman Vestment design, made from pure 100% silk. Available in all Liturgical shades, provided the silk is available in an appropriate colour.
NOTE: You get the gorgeous embroideries at wholesale/direct prices! The combined embroideries on this set would cost $166 retail elsewhere.
CHASUBLE
The Chasuble is ornamented as shown, with a 9" bullion embroidered Chalice with Sacred Host on the back, in the centre of the Cross. For future sets, the galloon will be imported high quality European galloon, containing 2% fine gold. The 3/4" trimming use on the set in the photos is from the UK, and not as robust as this set would require.
The chasuble in the photo is approximately 26" wide across the shoulders, and a very generous 43" length at back. This would suit a tall cleric. Note that all sets are usually made to order so the measurements can change.
Stole & Maniple
The stole for the particular set on special measures 4" wide and a generous 43" from the 'v' at the centre neck back. Bullion embroidered Crosses in gold with green are worked on the Stole ends, whilest the neck has a gold bullion Greek Cross.
Above: Unfortunately, the photo makes the Cross and the fringing look a little too pale.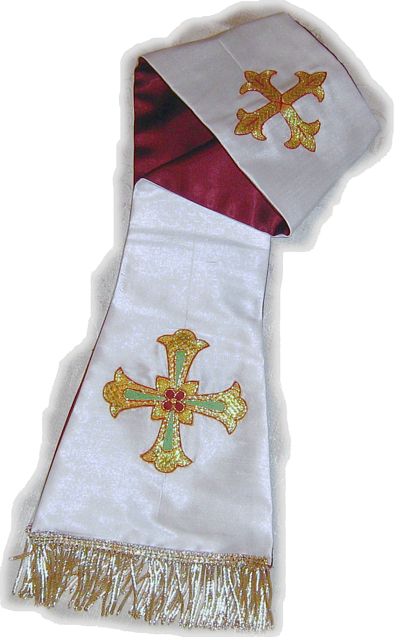 Above: This photo gives a good idea of the burgundy satin lining.
CHALICE VEIL AND BURSE
The Chalice Veil measures 20" square approximately.
The 9" square Burse is lined in pure 100% linen and features a very nice bullion embroider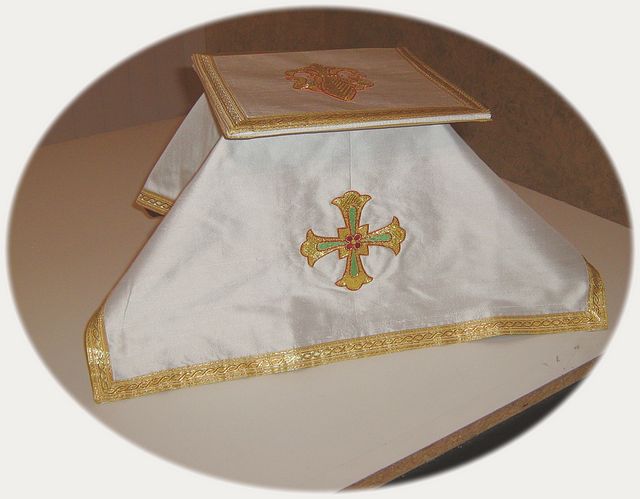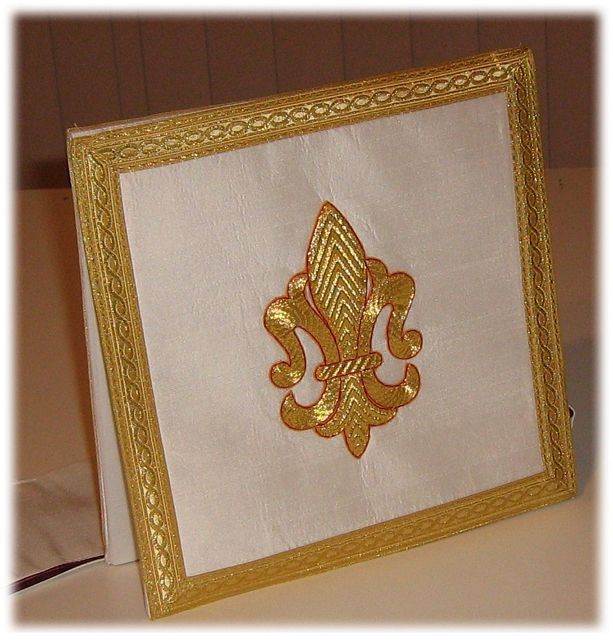 ABOVE: This photo of the Burse gives a much better idea of the quality of the bullion embroidery. These embroideries are beautifully worked. The Burse is closed by link closure (not yet applied to the Burse shown above).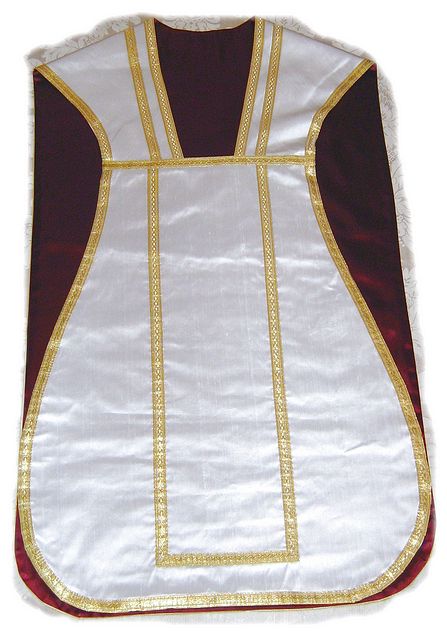 ABOVE: Chasuble Front: Note the lovely lustre of the silk.
THE FINE PRINT: Pertaining to the parrticular set that is on special as at 23rd January, 2008 (does not apply to future sets).
1. The 3/4" trimming is rather flimsy when applied to a light weight fabric such as this dupion silk: therefore, it does not look as neat as it should.
2. The bullion embroidered Cross on the left of the Stole (see photo above) is not perfectly straight. I am getting used to applying these.
3. The distance from the edge maniple to the Cross arms at the base where the Crosses are applied is not perfectly even on both sides. (See photo).
This is a very nice set of vestments. It is INTERLINED with a woven buckram type interlining. After numerous difficulties with iron-on fusings, the sew in buckram will now replace the iron-on and I believe the resutls are far superior.