| | |
| --- | --- |
| Price: | $990.00 |
| Availability: | made to order |
| Prod. Code: | ROMAN_ItalianGOLD/RED |
Complete five piece Roman vestment set; trimmed in the 'Italian style' - the Cross form is on the front of the Chasuble, as the photos show.
The fabric is a nice gold/white Church fabric. The entire set is lined in pure 100% silk. Imported British 3" Pugin banding found in the Chalice Veil, burse, Stole and Maniple. Gold/Red Quatrafoil 3/4" trimming on the Chasuble forms the Cross panels.
CHASUBLE
The Chasuble measures approximately 27" across the shoulders at back, and is 42" in length, measured from the base of the neckline curve. A unique 9" bullion emblem featuring the "CHI RHO" has been applied to the back of the Chasuble. You cannot buy this emblem anywhere else!
STOLE & MANIPLE
The Stole measures 41" from the 'v' at neck, and is approximately 4 1/2 inche wide.
The Maniple is 16" in length and 4 inches wide.
CHALICE VEIL
The Chalice is approximately 20" square.
BURSE
Traditional sized 9" square burse.
The vestment set has been lined in pure, 100% silk.
This is a very nicely crafted set of vestments, that should see decades of worthy service in your Catholic Sacristy with the proper care.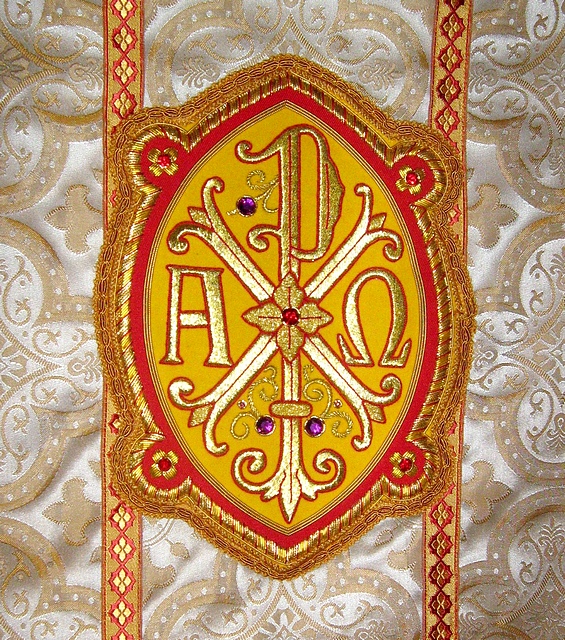 If you have any questions, please email me susanevans1 AT aapt DOT net DOT au