| | |
| --- | --- |
| Price: | $895.00 |
| Availability: | custom made to order |
| Prod. Code: | WHITEGOLDMARIAN |
From the Fair Shores of Australia...
we bring you...
A Gorgeous, brand new Processional Canopy for Corpus Christi and other Eucharistic & Marian Feasts.
crafted from white/gold Church fabric, and lined in pure 100% 'Marian Blue' shade silk!
** WORLDWIDE SHIPPING! ** AND YOU ONLY PAY 1/2 OF THE SHIPPING COSTS! ** WORLDWIDE SHIPPING **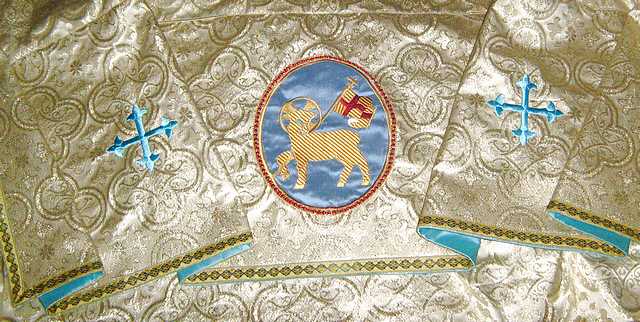 Here is a wonderful, brand new Eucharistic Processional Canopy made from a very nice white/gold metallic Church fabric and lined entirely in pure silk, ready for you to add to your sacristy's inventory.

I believe in offering honest value for money, and this Processional Canopy is priced very affordably. With the current strength of the $US here in Australia, this auction price works well for me as a fair and just retail price, taking into consideration the combination of imported materials involved and the work it takes to make one of these. In buying this Processional Canopy you are supporting a Traditional Catholic vestment house - the current economic situation has effected my business also, and right now every sale is a true blessing from God.
This Canopy has been professional crafted to a very high standard. It should see years of worthy service in your parish. f you have any questions, please ask. Have a GOOD LOOK at the photos. The edge 3/4" trimming is a quality rayon, in blue/gold featuring a Quatrafoil pattern. This is a dream trim to stitch down, and it looks great. Great care has been taken in the actually stitching and construction of this Canopy. This is true value for money!
NOTE: The Lillies and Easter Eggs are for decorative purposes only, on the photo of the Lamb emblem. The emblem on the canopy does not have these, obviously.
CANOPY SIZE
This Processional Canopy measures approximately 61" x 61" - that's the roof.
The Side Panels are a generous 15 inches deep.
The front of the Canopy has a beautiful custom embroidered Lamb of God Emblem, worked on a blue silk foundation; it is trimmed in red/gold trimming.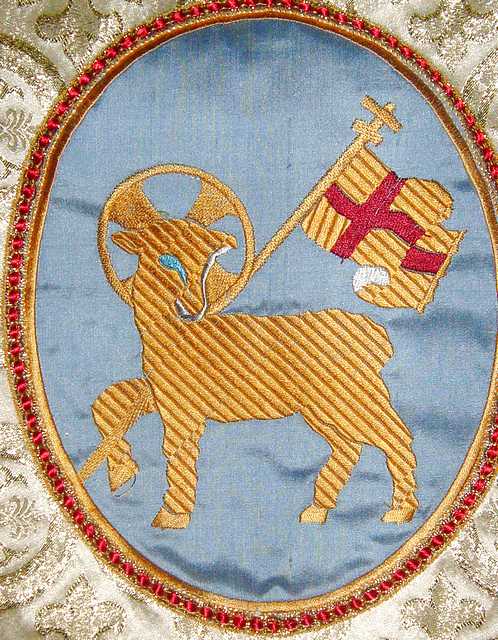 Two 4" Greek Crosses in blue thread (that matches the silk lining of the Panels are embroidered alongside the Lamb emblem. Note that the blue silk foundation of the Lamb emblem is ever so slightly darker in shade than the silk lining of the panels.
Each Panel is trimmed with 3/4" Quatrafoil pattern blue/gold trimming.
All four panels have cotton calico inside to give them a durable, professional weight.
The Canopy is professional finished 'inside', where the roof joins the side panels, with the application of a 3/4" gold metallic trimming. This trimming completely seals the sewn seams on the roof edges, where the panels have been joined to the roof.
FOUR LOOPS, ONE IN EACH CORNER, WILL BE APPLIED, IN ORDER THAT THE CANOPY CAN BE HOOKED ONTO PROCESSIONAL POLES. These loops are very strong and in addition, there are tie tapes to ensure the canopy will remain securely on each pole.

OPTIONAL UPGRADES:
You can upgrade to fringing on the four panels for an additional fee of $US20. A strong gold rayon fringing would look wonderful on this canopy! If you would like silver fringing instead, I have some nice metallic bullion fringing that I can add for $US30.
You could also have a bullion Sacred Heart emblem applied to the centre of the Canopy roof - on the inside - for $US80.
SHIPPING: Lucky winner pays only $US25 for shipping via Express Courier International. This is a very fast and fully trackable service. My Studio will pay the balance for you!
This is a lovely, brand new Canopy, ready to ship as soon as it is sold.
Q. Isn't it time your parish had a nice new Corpus Christi Canopy?
Very nice to give as a gift to a parish priest or to a sacristan.

Thank you for visiting this page and God bless you.