| | |
| --- | --- |
| Orig. Price: | $1,390.00 |
| Sale Price: | $790.00 |
| Availability: | in stock ready to ship |
| Prod. Code: | SaintJoseph2022 |
SAINT JOSEPH SEMI GOTHIC VESTMENT SET
Ready to Ship at date of listing: 6th March, 2022
1 only set available at this discounted price. Excess Stock, must be sold!
Here is a classic style, Semi-Gothic Vestment set crafted in honour of the great Saint Joseph.
CHASUBLE
The traditionally styled Chasuble is sized to a pre-Vatican II fit. Sewn from a beautiful white/white church fabric, the Chasuble is approximately 46.5" across the top, measured from cuff to cuff, and has a length of 48". Fully lined in pure silk in a pale gold shade. Ornamented in 3" British Pugin green/gold banding as shown, and with a custom emblem of Saint Joseph on one side. The edge of the Chasuble is trimmed in 3/4" narrow red/gold British Quatrafoil trimming.
STOLE
The matching Stole measures 47" in length and is 5" wide at the base. It is trimmed in red/gold narrow trimming with green/gold banding at both Stole ends. Fringed in quality fringing.
BURSE
The burse is 8 3/4" square, lined in pale gold pure silk and trimmed as shown.
CHALICE VEIL
The Chalice veil is approximately 22" square and trimmed in matching trims. It is lined in the pale gold pure silk.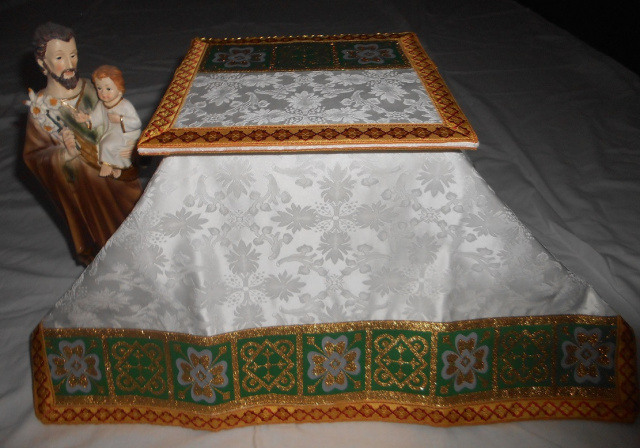 MANIPLE - A maniple can be provided at the additional discounted cost of $US65 if required.
SHIPPING: Express International Postage: $US65