| | |
| --- | --- |
| Price: | $690.00 |
| Availability: | in stock |
| Prod. Code: | STJOSEPH2023 |
A Roman Vestment set in honor of the great Saint Joseph
IN STOCK * READY TO SHIP 48 HOURS from order placement!
Express International Shipping: $US65
Sewn from a simple white/gold Church fabric, this striking Roman vestment set is extensively trimmed in green/gold imported trimming. Entire set provided: Chasuble, Stole, Maniple, Burse and Chalice Veil. Lined in Emerald Green shade pure 100% silk throughout.
THE CHASUBLE
The Saint Joseph Roman Chasuble measures 26.5" across the shoulders at back. It is 39.5" long measured from the top of the shoulder. The Cross is formed from British 3" Pugin banding in green/gold. A unique emblem measuring 8", of Saint Joseph carrying the Child Jesus is applied to the center of the Cross.
THE STOLE & MANIPLE
The Roman Stole and matching Maniple (photos to be added), are styled in the Traditional Roman style.
CHALICE VEIL & BURSE
The Chalice Veil measures 19" wide x 21.5" length. Beautifully trimmed in rich gold/green trimming and with matching 3" green/gold Pugin banding on both Chalice Veil and Burse as shown. Lined in Emerald Green pure silk lining.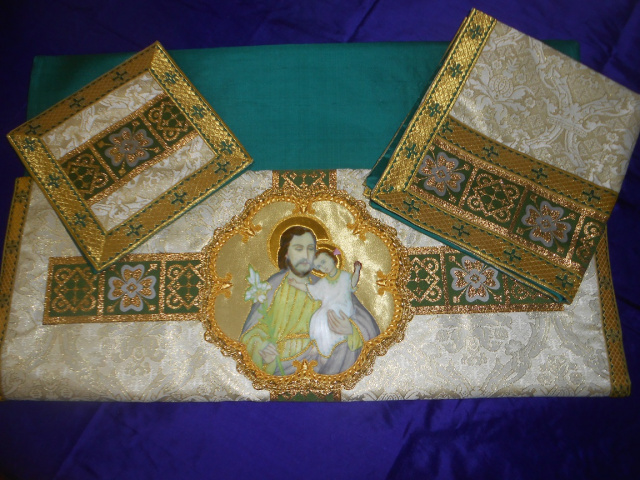 Saint Joseph Prayer of Protection
"Great St. Joseph,
whose protection is so strong and prompt before
the Throne of God, I place in you all my interests
and desires. Assist me by your most powerful
intercession to obtain all spiritual blessings,
in Jesus Christ, our Lord. And, by gaining here
below your Heavenly favor, I offer my thanksgiving
and homage to God, the most loving of Fathers.
Oh Great St. Joseph, I never weary in thinking of you,
with the Child Jesus asleep in your arms.
Ask for me the favor of His love, when I draw my
dying breath! St. Joseph, the Patron of
departing souls — Pray for me."