| | |
| --- | --- |
| Price: | No Price |
| Availability: | in stock |
| Prod. Code: | Antique2008A |
Here is a very nice antique Roman vestment set. Please note, the Chalice veil has a couple of spots on it. The Burse is quite small, about 7.5 inches. These photos make the accessories look quite large, which is not the case. Email me if you have any questions: susan@susanmaria.com
Crafted in a rich white/gold silk brocade, this set would have to be over 100 years old. all five pieces offered, in good condition.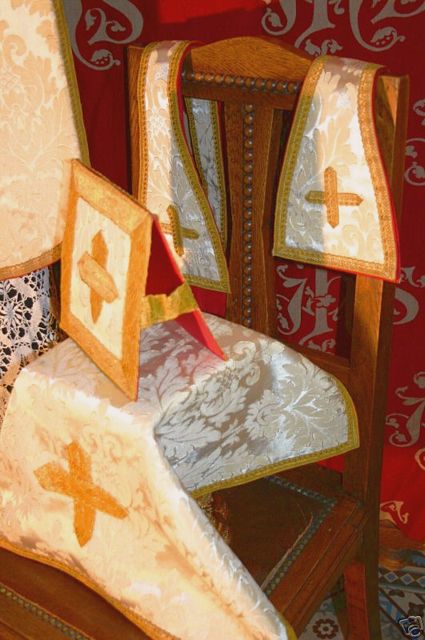 Some fine print for you. Don't expect a set that looks brand new. These vestments have been used, but are in very good condition. A good five to ten years could still be coaxed from them, and the lining could even be renewed at some point.
Yes, they are beautiful. Yes, they have been through many Liturgical Seasons, a procession of wearers, a host of Easter dawns streaming through the sacristy windows where they have been stored for many years.
They have probably seen Easters before electricity came in, Easters when everyone arrived on foot, horseback or carriage. Easter Sundays greeting carefee children oblivious of the great wars and turmoil to come up on the world.
EASTER SUNDAYS BEFORE THE FEDERAL RESERVE WAS CREATED!
The world turns, and every year our hearts and spirit are renewed with the joy of Easter. The hope of our Faith and the glory and happiness of Christianity.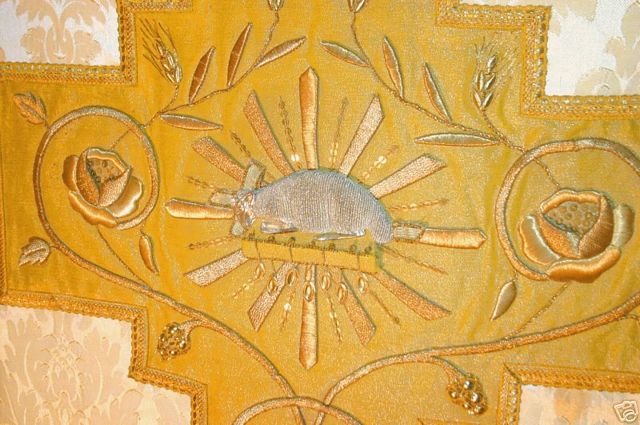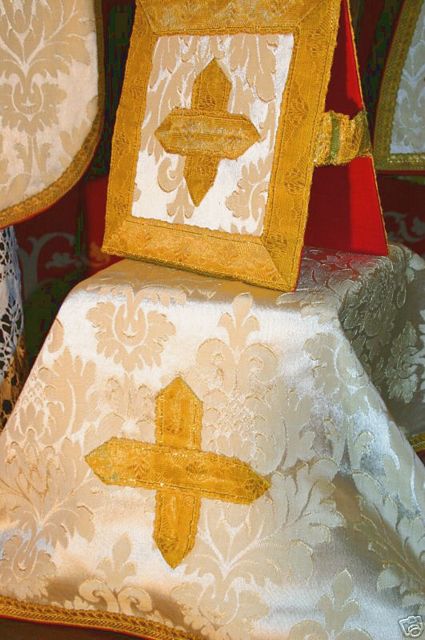 SHIPPING $US65 via International Express.