| | |
| --- | --- |
| Price: | $1,150.00 |
| Availability: | SOLD |
| Prod. Code: | Antique2008B |
**** SOLD ***** No Longer Available.
A very nice Roman Vestment set, comprising all five pieces. Please email me if you would like to buy this - at time of listing 28 Feb, the price is $US1150*
* subject to foreign exchange rates.
Crafted from a lovely gold/white silk featuring crown and Griffin in the design. Very nice embroidery work involved in the Marian theme on the set. I will try to get a photo of the front of this Chasuble uploaded as soon as possible. The front is round necked.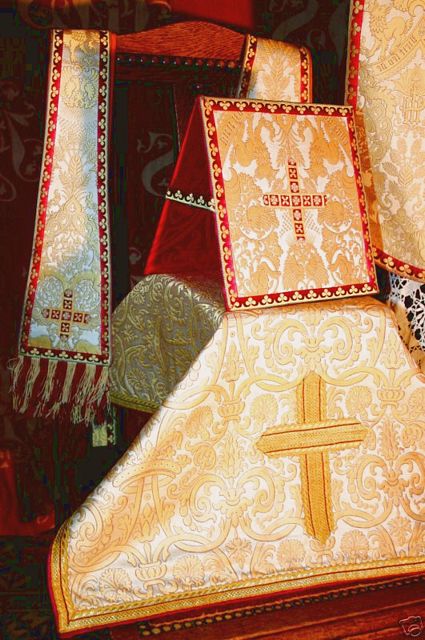 Incredible to think that the dear soul who made these vestments has long passed on to their Eternal Reward. May whoever it was that made these vestments, rest in peace, and may they pray for us!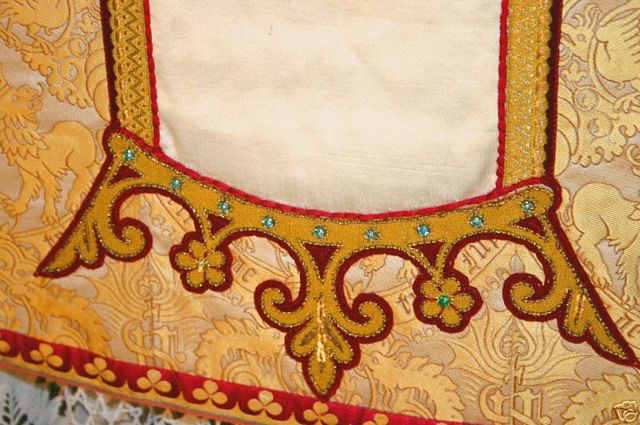 Some fine print for you. Don't expect a set that looks brand new. These vestments have been used, but are in very good condition. A good five to ten years could still be coaxed from them, and the lining could even be renewed at some point.
Yes, they are beautiful. Yes, they have been through many Liturgical Seasons, a procession of wearers, a host of Easter dawns streaming through the sacristy windows where they have been stored for many years.
They have probably seen Easters before electricity came in, Easters when everyone arrived on foot, horseback or carriage. Easter Sundays greeting carefee children oblivious of the great wars and turmoil to come up on the world.
EASTER SUNDAYS BEFORE THE FEDERAL RESERVE WAS CREATED!
The world turns, and every year our hearts and spirit are renewed with the joy of Easter. The hope of our Faith and the glory and happiness of Christianity.