| | |
| --- | --- |
| Orig. Price: | $2,999.00 |
| Sale Price: | $1,999.00 |
| Availability: | in stock |
| Prod. Code: | Antique12 |
THIS ITEM IS NO LONGER AVAILABLE, Sorry.
ON SPECIAL! This set has been drastically reduced in price. Shipping: $US100.
This is a magnificent antique set of Vestments, with exquisite hand embroidery as the photos show.
This set must be at least 200 or more years old. The embroidery is amazing - featuring borders of fruit and flowers, with gold workd and embroidery forming the panels on the Chasuble.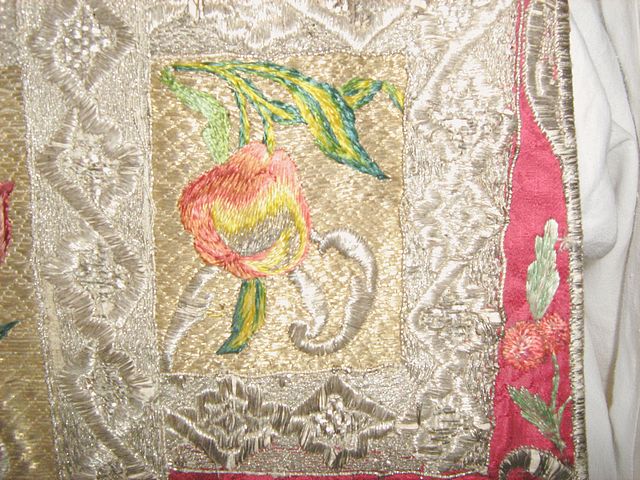 The Stole and Maniple are the original items and also have borders of fruit and flowers.
I have created a matching Chalice Veil and Burse from identical shade pure silk fabric, and the Cross from the Stole has been replicated and worked on both the Chalice Veil and Burse.
Please note this set is very beautiful, but it does show some wear, due to its age. However, it is a rare set of very beautiful Roman Vestments in the Italian style, which would cost a fortune in today's currency if made new now.
I have about 30 photos of the set, going around the entire Chasuble, etc in sections, to show you what it looks like.
I believe this gorgeous set of sacred Liturgical Vestments will be useable for quite a few years to come, if cared for properly.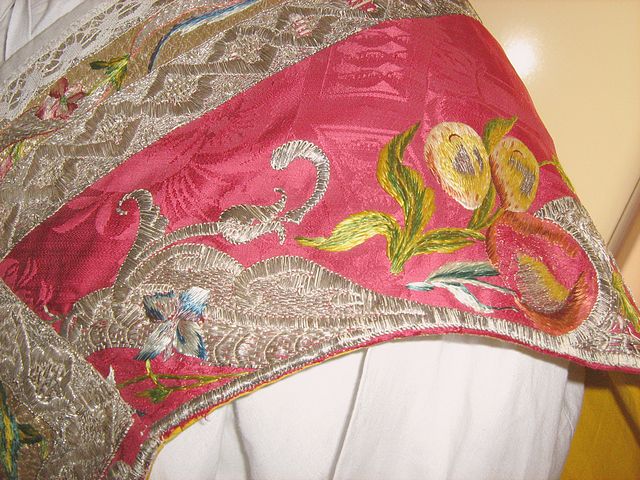 *** NOTE: The lace collar on the Chasuble has been removed. ***
INSURED SHIPPING VIA EXPRESS COURIER INTERNATIONAL: $US100.
Please email me: susan at susanmaria.com with your questions.